CLASS OF 1950 CONTRIBUTION TO THE USNA MUSEUM
ESTABLISHMENT OF PREBLE HALL HISTORICAL DOCUMENTARY
ENDOWMENT AGREEMENT WITH THE NAVAL ACADEMY FOUNDATION
FUND RAISING PROGRAM FOR MUSEUM PRESERVATION AND MAINTENANCE
---
Posted 12/19/10: (Museum Endowment, from Dick Powell)
<![if !vml]>

<![endif]>United States Naval Academy Class of 1950
museum Endowment
Captain J. Richard Powell, Jr.
United States Navy (Retired)
8123 Dunsinane Court, McLean, Virginia 22102-2719
Tel: 703-893-4584 Fax: 703-893-1802 Beach: 757-721-3452 E-Mail: kneebasher@juno.com
Tis the Season to Be Stupid
The Wall Street Journal, December 13, 2010, p.R1
17 December 2010
Dear Classmate:
The rubric above isn't meant to be a flippant attention getter but to provide the title of a tutorial on avoiding the financial mistakes people make when giving to charities—and how to avoid them. This letter isn't a repetition of the WSJ's efforts but some measures they refer to and how the USNA Foundation and the Class stack up. The pertinence of this is to ensure the optimization of your gift, especially in these lean times.
I've been remiss in monitoring the final destination of your contributions to the Naval Academy via the USNA Foundation. No, this isn't an outgrowth of the Inspector General's inspection of USNA handling of finances. That exercise has all the earmarks of a make-do witch hunt that in fact may well come to conclusions that many of the do's and don'ts of local money handling are burdensome and inefficient over-regulation and, in fact, don't involve our "private funds" in the endowment. I'm referring to the efficient use of monies in support of the Naval Academy's mission.
Our Museum Endowment which is an open, active account accepting contributions has two sources of funds: (a) your voluntary donations designated for Account #8150, the Museum endowment; and (b) the income generated by the Endowment's investment portfolio managed through the Alumni Association Treasury and their professional financial management firm. Our investment income enjoys a record significantly better than average and for the (Foundation) 2011 FY currently is yielding a 25.9% annualized return net of its expenses and transfers of over $40K. Theoretically, at the present rate of return (and wishful thinking) our currently valued endowment of $2.85M would double to $5.7M by late September 2013. Merry Christmas!
OK, the point of that little fantasy is to show by example the value of a contribution that is actively managed in a conservative fashion insofar as sustaining and building it's "in perpetuity" intent. But, it has to start out as a contribution designated for the Endowment. Availability of its gains is conservatively limited but the roughly 4% of corpus withdrawal allowed annual disbursement provides funds for projects denied appropriated funds as well as unforeseen urgencies a Museum accredited by the American Association of Museums and recognized world-wide is likely to encounter.
(2)
The Foundation measures their cost of a donated dollar at about 16%. Our direct expense is less than 1% fundraising and in valuing Foundation interplay and assistance grosses up to the 3-4% range. (Investment earnings are net of the cost of business.)
Without further emphasizing the virtues of directing donations through the Endowment multiplier, the advantages of this avenue speak for itself. True, to a degree, this competes with other efforts of the Alumni Association/Foundation. However, were it not for the Endowment's capital management of its funds thereby increasing their value, other general Annual Fund supported endeavors would likely suffer by having to fill in.
Personally, I would be delighted if the Foundation started an AA endowment to protect against and accommodate recessions a la : Harvard, Yale, Stanford (in the billions), et al. This would avoid the extremes such as being forced to vigorous bell ringing with helmets held out invitingly at; e.g., football games wending their way through tailgates; tapping the numerous visitors to USNA (being careful to avoid violating the Hatch Act).
Having said all the above there should be little question as to the direction of charitable expression I am suggesting; simply the most efficient. Your contribution your check must be annotated: Class of '50 Endowment, or Museum Endowment, or Acct. No. 8150. If you have recently mailed a check, Dawn Beach at 410-295-4115 or Melody Wahl at 410-295-4116 may be able to help you re-route for correct attribution. Or try me at 703-893-4584. Donors of appreciated securities not familiar with the routine should contact Dawn, or me, for account designation. (Probably not enough time to originate such a contribution at this late date.)
Jack Akin, our webmaster, http://usna50.8k.com/, has recently rearranged the museum fundraising section of the site for a very useable reference as well as history not the least of which is more of the above probably in better English. The Class financials can be accessed at: http://www.usna.com/Page.aspx?&pid=745&srcid=708 .
A very Merry Christmas to you and may your New Year be Happy, Healthy and Prosperous. Thank you also for making my job gratifying—we have a truly remarkable and distinctive legacy in the Museum and one in which we can take pride in having supported as members of a large team that brought Preble Hall back to life. This would not have been possible without your support.
Sincerely,
Dick
J. Richard Powell, Jr.
Contributions may be mailed: United states naval Academy foundation, P.o. box 64978, Baltimore, md .21264-4978
---
Posted 11/12/10: (Current Museum Investment/Return/Expenditure, by Dick Powell)
Dick Powell reported the financial status of the Museum Endowment following the first quarter of the USNA 2011 FY that commenced July 2010. Over the past several years the endowment has been the beneficiary of two legacies totaling $ 1.5 million, relatively small (-13%) recession portfolio damage, and currently improved market conditions. The endowment is now worth $2,786,524 of which less than 35% can be attributed to out-of-pocket contributions. Last quarter's non-realized capital gains amounted to an exceptional $ 175,000+, or a 7.4+% quarterly gain. Do not expect or get used to this north of 29% annual return—it just isn't going to happen. But it's nice to see it now.
It has, for the moment allowed us to commence early support of Museum displays with their repair and mounting, costing almost $20K and another a like amount obligated for in process work. This leaves an unobligated reserve of some $25K for which additional displays, services are being considered and scheduled.
Don't expect the foregoing return to continue and be the answer to all the needs that an "in perpetuity endowment" contract requires. It simply will not be maintained. The Museum Endowment (50 acct #8150) is still open to accept Classmate donations in an ongoing basis. Unless support is continued with input at the top to keep pace with inevitable inflation, compensate for an annual endowment levee* for non-federal appropriated fund expenses and beyond inflation-rate increasingly expensive museum items, the endowment will die. With this in mind it is disturbing to note that recent museum contributions have amounted to less than one-third of that contributed by classmates (without attribution) to the Foundation's annual fund. In fact, total Class contributions are 20% off their normal pattern.
Ultimately, we will find another class that can fall in love with the history the museum preserves and the institution that nurtured them. When we do, it will be time to relieve the deck. It's not far off and it will not be passing-through-station; it will be on-station. Reordering gift attribution (i.e., to the endowment) would be a good idea.
*Endowment levee: The amount that under ordinary circumstances may be disbursed from an endowment is set by the Board of Trustees and conforming to Maryland law. This is 4% of the sum of the averaged quarterly annual aggregate of endowment value.
---
Posted 4/27/10: (Museum History, from Dick Powell)
60th Reunion of the USNA Class of 1950, Preble Hall, Rededicated 24 April 2010
---
Datum: Commencing in 1995 the Class of '50 supported: (1) a video kiosk with the then Class President hawking ;(2) the creation of a large USNA Museum pilot concept display completed on the successor President mandated eve of our 50th Reunion. It also raised from Classmates over $750,000 by 2000. Installation of the new museum display ,"…100 Years and Forward…" was completed in 18 months with exceptional efforts on parts of staff, Classes turning display script around in 24 hours. Small, non-federal contracting was widely used. Super cooperative effort. Results lauded—a winner and harbinger of the overhaul design of the entire main museum.
Datum: Shortly after '50's commitment and concurrent with the foregoing, '51, '52 and '57 joined as initial classes in The Syndicate for joint museum fundraising purposes. Other classes were recruited and eventually, 11 become members. '38 and USS Barb chipped in too. We verified that a good museum is like a boat; a bottomless money pit. (N.B.: '50's cost of funds raised was one cent on the dollar raised.)
Datum: Following broad acceptance of the pilot project the Museum gets a full GO! Fundraising continued with a mandated goal of over $7+ million in private non-appropriated funds to support complete restoration and modernization. The Syndicate was in high gear. Federal funds of $9 million were appropriated for building integrity repair and museum quality HVAC.
Datum: '50 in 2005 determines to raise $1 million on Class President's challenge to fund a Museum Endowment; a Class first for USNA. The Class goal is achieved late in 2007 thanks to capital gains as great as members' contributions thus enabling temporary loans to other Classes. An additional $750,000 realized gain is contributed to cover ongoing contracts.
Datum: 2008 work starts on all aspects of repair, renewal, etc. All artifacts were moved out of Preble Hall and stowed safely after extensive Museum staff effort; especially in director and curators surveying and cataloging. All artifacts were moved out and tenderly stowed safely. Serendipitously, during the recent market collapse our exposure was limited by either having spent the corpus or loaned it.
Datum: At no time during the last year's downward market was the endowment ever underwater. Losses approached 26%, all but about 13% has been recouped. The Museum was officially reopened 28 August 2009 but with Irish pennants still being addressed as funds became available.
Datum: Relative to the last item, the '50 Museum Endowment will address some of these non-federal obligations as we seek to qualify the Museum for international recognition as a maritime teaching institution. We still gratefully accept contributions and as long as we maintain our corpus we can withdraw up to 5% annually for Museum titivation not covered by federal funds. The current balance is more than $2.6 million thanks largely to the beneficence of several Classmate-directed estates. Gifts should be annotated with Class of '50 Endowment.
QED
Having been involved in multiple aspects of the museum for over 15 years and wrung up hundreds of car-miles between McLean and Annapolis, I am honored by being selected to write a short history on our fundraising efforts on behalf of our alma mater's Museum and what was achieved. Of course it wasn't just ours; we were only supporters of those who had the vision to imagine what you see today. And those who facilitated classes working together in a common cause in The Syndicate acquiring private sector money. Then those who put it all back together, exploiting the uniqueness of many displays while telling a story centered on the far greater contributions Naval Academy graduates have made to our country's history. At www.usna.edu/Museum/, the Alumni web site has it all so I'll not repeat it.
What I'll try doing is passing on some helpful ideas inasmuch as there is a lot to cover. You will probably enter the museum from Maryland Avenue into the lobby. You will meet your first of many volunteer guides "manning the rail" for you where you can also pick up a floor plan at the reception desk to your right. This is priceless in moving around the First and Second decks. Before leaving the lobby note the restrooms on the other (West) side.
Then on to the Area 1 exhibit introduction and further along a slight ramp up to the main over-cabling deck. Stop a minute and look up to your left at the plaque on the wall. This recognizes The Syndicate and high donor members on behalf of the museum. There are more '50-ers than any of the ten other classes (which makes me proud). This doesn't mean that other Classmates didn't necessarily contribute--we had large donors to the scholarship fund, stadium, etc. The Syndicate was exclusive to the museum and lived up to its namesake heritage that started on London's Lime Street in the late 17th Century.
Natural flow though the displays spans two Century's of American naval history. The Gallery in the back on this level has a wonderful art collection with over 1200 paintings (part of the Robinson collection) and sculptures representing notable artists. Many lithographs of these paintings are available in the Museum Store (more on this later).
Continuing through the Cold War and Space (Areas 19 and 20) through to specialized displays; e.g., the Class Ring collection which covers nearly all classes. Throughout, there are artful pieces such as ship's silver, uniforms, equipment, guns, personal arms and swords, etc. By now you will have made a "U" around the floor and facing out to the elevator to take you up to the Second deck with it's world famous Rogers Ship Model Collection, or down to the Ground level.
The Ground level houses the Museum Store, newly opened last week. This area is also accessible from the outside by walking down the ramp from the road on the Severn side of Preble. The store is upscale with books for sale, model aircraft, boats and ships and I believe I saw some jewelry there as well. As noted above, it also has a wide selection of lithographs featuring glorious sea battles, historically famous and representative of all the wars and quasi wars we have ever fought. From the passageway outside the store there are viewing windows on the ship model workshops that the Museum maintains.
Back on the elevator to the Second floor we exit right near the Theatre which seats about 40 and is a nice resting place for an octogenarian tired of walking or wanting entertainment with a movie. If you had continued left down the passageway past offices (museum director, associated staff) The Syndicate Room is the last conference room on the left. The rooms will hold 40 people and has a conference table that Commodore Mathew Perry was given in 1854 by the Japanese on his "opening" of the Imperial Japanese Islands. The table later was given by Mrs. Perry to the Naval Academy in 1857 and has been restored recently and modified to the extent that "tall Westerners" can be seated at it comfortably.
Instead of having entered The Syndicate room you had turned right there is another large restroom on your left, just before a classroom. Ship models, especially the Rogers Ship Model Collection with upwards of 108 models in a period from 1650 to 1880, is well displayed in the center. Life sized replicas of ship sections (with cambered deck), workshops of the period, a brig, rigging are interspersed and representative of the era.
This is just a brief pony of what you can expect and not indicative of the quality of the jewel "our" Museum is. Museums have another quality that is most difficult. They have a penchant for moving displays about if they are not anchored to a specific location. Much of this is brought on by maintenance of displays and substitutes filling a pace. Another is that Directors like to vary their displays to spice them up if possible. They often trade artifacts or buy and sell them often for the "fit" of the new piece; and just as often for the liquidity.
I hope it has been of some help and at least will let the octogenarian in most of us know where convenient "life" stations are located. We'll have brochures next time and I won't have to hand out a second rate gouge.
I have purposefully not named any of those I've been thinking of or describing circumstances while writing this. You will have them all named for you by the time the day is over. We've been very fortunate. Equally fortunate are those who visit this jewel of a Museum.
---
Reposted 1/04/09: (Letter from Dick Powell)
United States Naval Academy Class of 1950 Museum Endowment
Captain J. Richard Powell, Jr., U.S.Navy (Retired)
8123 Dunsinane Court
,
Suite B, McLean
,
Virginia 22102-2719
Home: 703-893-4584 Beach: 757-721-3452 Cell: 703-615-5660
2 June 2009—or, would you believe, 59 Years Later?
Dear Classmates:
With a short year till our 60th I owe a brief how-goz-it on our fundraising but more importantly want to keep a monkey off my back. Also—surprise—surprise: this is not a fund-raising plea! Honest—on the other hand…
We finished 2008 with our endowment investments down 19% and thus far this year have regained better than 5% back. Not bad when you consider that the NYSE took a 30% bath in 2008. Our museum endowment is well above water not only as a consequence of conservative and well hedged discipline as well as an exceptional testamentary benefit from the heirs of another (super ancient) Class that had been well served by the foresight of a Classmate. True gratitude for which we can all be thankful.
You can view the daily fiscal year statement at the alumni Association's web site at: http://www.usna.com/Page.aspx?pid=745.
The real purpose of this letter is as an advisory. It is expected that by August themuseum will be back in operation in all its new full-blown glory. Almost fifty percent of the effort has been supported by private subscription through the e1even Classes of the Syndicate which we started when the cold water of reality dictated that one Class couldn't support the seven million needed for display work in addition to the eight plus million Preble Hall needed for temperature, lighting, humidity control it never had. In total, over the years 'Fifty's generosity will have contributed some $2.5 million to the project. And, another $ 9+ million to other Academy non-appr0priated needs.
Now, the monkey on my back. If I didn't let you know I would be remiss. Also there's no telling how much moaning and crocodile tears I'd get with after-the-fact, "If I'd only known!" Over 70% of the Class has generously participated in this effort. Widow "Classmates" have participated meaningfully as well. In recognition of those who have contributed $25,000 or more, a plaque will be mounted in the new conference room—named the Syndicate Room --inscribed with the donor's name.
Only contributions for the museum project will count toward the $25K. These are the same ground rules used for the football stadium. A number of loyal, generous donors are very close to qualifying for this recognition. So, if you want your name inscribed so the grandkids can point to "gran'pa" I've let you know

.

If you

want to know how much is accredited in your name call me. I have such a listing and a number are very close to such recognition. Also, a number have split donations over the years and miss qualifying which is truly regretted but the line has to be drawn somewhere. Any make up contribution must be made by 30 June.
My apologies for the last minute notice but I'm at the beach cottage now and this is competing with neat things like painting, carpet cleaning, "gotta have" flat screen TVs etc. Plus the new liner on the swimming pool has a wrinkle and shingles need replacing on the "boat house" (aka tool shed, "goat house", etc.). The A/C's getting ready to die—thank goodness for east winds off the Atlantic. I'm getting too old for all this particularly since our six weeks down here this spring were interrupted by a week in Branson, MO (of all places--different) for a squadron reunion which in view of having commanded it in two full deployments to Yankee Station and environs in a different life ago I felt strongly beholden. Good kids and they all came back—not at the same time but six years later. I'd do it again
Fran and I will be leaving here in two cars on Saturday, 5 June and will be home in Mclean at the 703 telno no later than Sunday. Any questions let me hear from you.
Sincerely,
Dick
---
---
Posted 8/08/07: (Beware Pickpockets, by Dick Powell)
United States Naval Academy Class of 1950 Museum Endowment
Captain J. Richard Powell, Jr.
United States Navy (Retired)
8123 Dunsinane Court, McLean, Virginia 22102-2719
Tel: 703-893-4584 Fax: 703-893-1802 Toll Free: 866-859-4362 Beach: 757-721-3452 E-Mail: kneebasher@juno.com
Beware of Pickpockets and Save the Return Envelope
Tuesday, 07 August 2007
Dear Classmate:
I opened my e-mail one day this past week and amongst some 75+ new messages was one from the Naval Academy Foundation. They apprised me of having mailed their annual mendication to all for unrestricted funds . Since we continue to sponsor the Museum Endowment we have made strong objections to this type of solicitation in the past, most recently last fall. We recognize the market, your pocketbook, has limitations. Coordination with the Class, etc. was promised. Hah! The drums are beating!
So much for background. I was p….d (oops)….upset, let us say. Several phone calls and e-mail have not raised a response. Thus, this self-preservation retaliatory fire. In the meantime don't get pickpocketed by doing what they ask without first giving serious consideration to our Museum Endowment. But do save the return envelope in case you feel the urge to make a donation to the Class of 1950 Museum Endowment. Be sure and note attribution on your check.
Sure, they need income. Dues have never hacked it—only about $541K a year; there is little to sell, no product, but some rents. Investment income is a great assist, about $13million; management fees bring in more than a million a year. This and other sources PLUS donations provided a joint revenue for FY 2006 of $50 million.* Much of this is in fenced endowments, or restricted for other designated purposes. Thus, they emphasize the need for unrestricted funds. Notwithstanding, I note from George Watt's latest Leadership Update that in FY'07 the Foundation "exceeded $8million in unrestricted gift receipts against a stretch goal of $6.8 million" and as a result, the "the total unrestricted support to the Naval Academy for the fiscal year ending 30 June [was] $1.85 million (an all time high…)" Lack of funds is certainly not curtailing operations.
The foregoing stats are from filed 2006 IRS Forms 990 (tax form for reporting tax exempt organizations income akin to your 1040) for both the Alumni Association and the Foundation. These are available at: www.GuideStar.org. Registry is free for minimal service access. You must enter the exact filing name of the institution you are looking up, in this case two individual filings: U.S. Naval Academy Alumni Association, Inc. and U.S. Naval Academy Foundation, Inc.
The 990s provide a candid insight and make interesting interpretation. Then there's almost a million for 'consultants', one of which looks like a direct mail house; they are probably the source of the malapropism in the gimme plea. That consultant was also unable (or unwilling) to provide a post mailing efficiency and effectiveness measure for us when we thought the Foundation with its resources could do an October 2002 mail out for us. Absolute disaster!
Relatively new www.CharityNavigator.org provides free analyses of tax exempts in their evaluation portfolio wherein you can find the USMA and USAFA, but no USNA evaluation. As a public service, I have requested an analysis of the Foundation be made and will expand this to include the Alumni Association if they are willing. I fully expect a four star (highest) evaluation. The web site specifies their criteria.
So why does a fundraiser become such a buttinsky? Simply because it's bad josh to alienate the ultimate client—your market. The alum—your Classmates. Also, if you don't have complete faith--and passion—in your product which includes the fiduciary responsibility of knowing that a contribution will be used wisely, how can you look Classmates in the eye and take their money? You can't. "Trust, but verify."
Then why be so hyped on having an awareness or involvement in direct Foundation contact? The biggest reason is that if we solicit gifts our costs historically have been no more than a penny on the dollar contributed; the Foundation's costs are15 times greater. Our money goes further, we are more efficient. Pay is lousy, too. You get more muscle for your contribution.
Then, capping it off consider this: Our Museum Endowment is perpetual. While able, it behooves us to maximize capital accrual and attendant investment earnings through astute management (Association manager, The Investment Fund for Foundations: www.tiff.org/staff.html ) at times when there is no demand for endowed funds' use to keep it invested and compounding.
CY 2006 the Foundation received cash, stock and pledges of $629,025 from Classmates for various purposes including unrestricted (discretionary) funds. Of this, our museum account received $125,988 from Classmates plus securities income of $221,852 for a total of $347,849; realized earnings on past accruals of almost twice the amount of donations! At the height of our fundraising prior to our 50th, two big mailings a year with individual stroking would be lucky to raise $200K. No one told me I couldn't mix two different classes of money—it's all green! With total investment gains near $600K, all 50's Museum Accounts now total $1,930,220.
Now you know why I mother-hen donors. This protects a Class of '50 interest whose purpose is to create a maximum investment corpus before inevitably passing endowment oversight to another Class in the first leg of perpetuity AND at the least expense to you. Today, we simply get more mileage out of your donation to the Class of '50 as it is a self-priming endowment. It's a better "buy."
Watch out for those pickpocket guys. Keep your powder dry, I'll be back in a couple of months with a financial update so save that return envelope, unless you want to use it sooner, of course. If you have any questions don't hesitate calling. Unlike the pickpockets—(can you imagine a fundraising organization without a toll-free phone number)—mine is above—call.
Sincerely, and many thanks,
Dick - aka Kneebasher
---
Posted 11/22/06: (From Dick Powell; Approved by Tom Bigley and Roy Snyder)
United States Naval Academy Class of 1950 Museum Endowment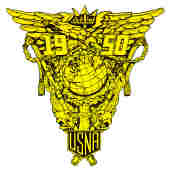 8123 Dunsinane Court

, Suite B, McLean, Virginia 22102-2719

Home: 703-893-4584 Beach: 757-721-3452 Toll Free: 1-866-859-4362 Fax: 703-893-1802

A Tale of Two Coaches TM
A Parable by Kneebasher

22 November 2006

Dear Classmate:

I've missed you guys. I know, when I last wrote twenty months ago prior to our 55th in Hawaii I stated that I expected to not have to 'beg' the coin of the realm from you any more. I think 'solicit' was probably the word I used. This letter is not doing that. No begging, just info and advice.

This letter is about two "coaches" both of whom came to the Naval Academy at about the same time, five plus years ago. The Johnsons; well known vaunted football coach Paul--and the sleeper--fundraiser extraordinaire Dick, Executive Vice President of the Naval Academy Foundation; both experienced, energetic and at the top of their game.

The Johnsons (unrelated) brought levels of expertise to the Academy far beyond any shown in recent times and brought sighs of relief and smiles from the Supe as well as the president of the Association. They got the Alumni off their respective (tender) derrieres. Both developed organizations to support winning and they did.

Football Paul naturally gets lots of publicity—you've read it. He's built winning teams going for four straight over Army and now the fourth consecutive year with a bowl appearance. Dick, in the meantime methodically broadened fundraising, picking up $40 million for a major stadium renovation along the way to a $246 million effort.

Football supports 30 varsity sports. But athletic facility enhancements not supported by appropriated funds were largely supported by Foundation fundraising; e.g., prep schooling of promising athletes, the new Warner soccer stadium facilities; the Crown Sailing Center has been enlarged and refurbished, new squash courts, ice hockey rink, baseball stadium, wrestling team support and on.

The Athletic Department is managed superbly by Chet Gladchuck. You can bet that with a football team going like ours in 1-A ball and drawing sellout crowds, that TV receipts and endorsements will be right behind it

With our early start for our Fiftieth gift supporting The Naval Academy Museum—Preble Hall—we spearheaded the formation of the Museum Syndicate of multiple classes all supporting the same project. Others icons of notable significance include Memorial Hall; refurbished and a gleaming preservation of both architecture and artifact. Examples of Classmates' philanthropy are two (hard science) academic chairs (by one generous soul), several academic retreats have been sponsored, another Classmate donated a perpetual scholarship to Oxford. At one point not too long ago our museum gallery was the only Center of Excellence that could be pointed to and touched. Nimitz library and Mahan Hall have been beneficiaries of this private refubishment, and since come on line as have numerous pockets of academia including additional academic chairs.

This beneficence has come to fruition in just the last five years and facilitated largely through the coaching direction and shoe leather of Dick Johnson and staff. Notwithstanding, individual alumni and Class efforts are still the bed rock of generating income as well as most predictable.

Both Johnsons have achieved marvelous records that will be hard to beat. Both are tremendous income generators. We are most fortunate to have them both but there are limits. Were it not for the liberal tax laws in the treatment of IRC 501(c)(3) corporations the fundraising side would not be near as fertile.

Alone without corporate, extraordinary grateful-alumni gifts and bequeathments this largess would not have been possible without everyday donations of alumni. Thus, competition for individual class donors is significant.

The Foundation wants your contributions to be unrestricted allowing them the flexibility of using the gift in support of an Academy requirement—OR--toward operating costs supporting their overhead. This is understandable but if a Class with a specific project such as our Museum relieves the Foundation from having to provide that support there is no overall difference. Moreover, the Association "taxes" all donations five percent, upfront, for their support. Plus, a small quarterly management fee is charged. Purportedly this charge is to offset marketing expenses. For the past three years '50 has borne all its marketing costs. Thus to insure that a gift goes into the right pocket make a notation on the lower left corner "...'50 Museum Endowment." This should be mailed to:
United States Naval Academy Foundation
P.O. Box 64740
Baltimore, MD 21264-4740
Some of you may already have been solicited by the Foundation but by following the above guidance you'll be supporting the Class as well as the Alumni Association and the Academy. The Association opines their expenses, larger staff, more projects, resurrecting Alumni House, Ogle Hall, etc. A need for an adequate operating budget is readily acknowledged and agreed to.

It is noted that the Association has had a surplus of a couple of million bucks for each of the past two years indicating enough market elasticity to start an endowment for themselves. Considering the fundraising success achieved over the past five years a significant dent in a possible $100-$120 million endowment supporting a $10-$12million operating budget is not inconceivable. I'd appreciate anyone who has strong feelings on this approach sharing them with me; e-mail me. I'll take it further. I'm not looking for the 29 billion Harvard has, just enough to take some of the sweat out of a marketing promotion.

I'm also trying to keep the Association/Foundation out of "my" market; my Class! They cry "cooperation and support." This cooperation and support is in part the reason for their existence, But the core reason for existence is to support Alumni and the Academy. The tool affecting this support is the Association/Foundation and that entity should not be seeking its support at the expense of approved and committed Class efforts by sneaky solicitations of alumni. When they do this their "cooperation" is about as welcome as splicing in ten more feet on your bungee jump line.

I make this point because over the past ten plus years we have supported the Museum with over $2 million largely without any interference from conflicting, competitive solicitations by the Foundation. During this time an additional $6 million was donated by Classmates to other Academy interests across the spectrum from the Chapel to education to sports to midshipmen's welfare, etc. This is a total of some $8 million without suffering the cannibalistic instincts of errant fundraisers grazing in our fields.

As the two coaches in our parable continue their winning ways the climate for the football team appears excellent and unless you give away a lot of points we should put Army to bed with five straight—losses that is--and Coach Paul comes out a winner hopefully not succumbing to enough gilt for a ten year contract buy-out.

But in our Tale of Two Coaches will Coach Dick be able to feast as well without eating the young? He knows how to do it. He also knows it's more difficult but can be done. We are different; we are the only Class that has been doing its own basic populist- oriented fundraising—and doing it successfully. He's as busy as a bare-footed organist playing in a West Virginia snakepit. And a lot of steamroller pressure means running faster. A tough job; especially looking forward to a couple of years of less than outstanding economic conditions.

We have no ref like Madam LaFarge knitting but we sure have two great Coaches with winning genes. The wine barrel will likely get broken at Lincoln Financial Field but let's not have bad sushi with Marie Antoinette's cake back at Bancroft.* Stay tuned to find out if we survive and continue 'steaming as before'.

For those who may be considering donating securities instead of writing a check, special instructions apply. The Alumni Association/Foundation has a new portfolio manager but the transfer will still be to Morgan Stanley with DTC #0015 for further credit to the U. S. Naval Academy Foundation, Inc. Account #645-041508. Remember, only donate big winners that are LTCGs. And use losses yourself to offset gains.

The Museum is on track for a full refurbishment and restoration with work starting this coming year and completion planned for late 2008. We'll be able to take the grand tour of it at our Sixtieth! Cost is now projected in the vicinity of $17 million of which over $9 million will be federally funded. Over $7 million will be required in private subscriptions of which all but about $1.2 million has been identified from amongst the ten Syndicate members. While '50 has no direct support commitment we will be loaning some of our un-endowed monies as bridge loans.

Finally, a quick recap on funds. There is $1,000,000 earmarked for the endowment and it is now earning money on its portfolio. This account realized $82,090 in income last year (ending 30 June) and $29,484 the first four months this year. Another account for the benefit of the Museum, not endowed in order to retain management flexibility during the construction period amounts to $648K with realized income of $49,420 last year and $19,942 thus far this year. Incidentally, this should make you aware that all these great mounds of money have not been pure generosity on the parts of Classmates. Over the years our accounts have realized investment income of over $300K—not chopped liver.

I've expounded enough—and see, I didn't ask for one red cent. But I'd be disappointed if you don't make a contribution to the Naval Academy Foundation annotated "'50 Museum Endowment" which will have the dual benefit of helping the Naval Academy and also letting the Foundation know how '50 does it. Also we will not use telemarketing and bother your Thanksgiving dinner just as you are standing to carve.

The October SHIPMATE credited '50 with having only 15% of members making contributions the first nine months of the calendar year, the bucket for the fifties decade. They forgot we gave a $1.5 million check the year before. Ah, well….how time flies…and we forget. Some days chicken, some days feathers. Which reminds me….

Have a Happy and Safe Thanksgiving. BEAT ARMY, and keep the Football Johnson string intact. Make a contribution for '50 attribution and keep Mme. LaFarge off Fundraiser Extraordinaire Johnson…for his sake and ours.

Sincerely,

Dick


J. Richard Powell, Jr.
USNA Class of '50 Fundraiser and Grinch

P.S.: My e-mail is: kneebasher@juno.com. If you are having difficulty finding an e-mail address on the USNA website for any living person mentioned above I'll get it for you

* With apologies to Charles Dickens and Marie Antoinette
---
Posted 12/25/05: (From Shipmate)

---
Posted 5/03/05: (From Dick Powell)
United States
Naval Academy Class of 1950 Museum Endowment

8123 Dunsinane Court
,
Suite B,
McLean
,
Virginia
22102-2719
Home: 703-893-4584

Beach: 757-721-3452

Toll Free: 1-866-859-4362/3

Fax:

703-893-1802
'FIFTY FLASH
2 May 2005
We are within a month of the actual 55th anniversary date of our graduation from

USNA

.
Donations are almost at our 55th commemorative million dollar goal to establish The Class of 1950 Museum Endowment in perpetuity.
The May 2005 SHIPMATE gives the final rundown on all Class donations and participation in calendar 2004. It also includes a stitched in lock box envelope for return contributions.
If Fifty's 2004 abysmal level of participation—35.39%--embarrasses you there is still a way to get counted; use the insert to send your gift.
Ensure that you note Class of Fifty Museum Endowment on the lower left corner of your gift check—or, for Account Number 8150.
Do it now, please.
V/Rspy,
Dick
N.B.:

One of the qualifications for

selection as a Trustee for the Endowment requires a minimum of ten thousand dollars contributed over the past five years.
---
Posted 3/17/05: (From Dick Powell)
United States
Naval Academy Class of 1950 Museum Endowment
8123 Dunsinane Court , Suite B, McLean , Virginia 22102-2719
Home: 703-893-4584 Toll Free: 1-866-859-4362 Fax: 703-893-1802
To thine own self be true….
Polonius to Laertes in Shakespeare's, Hamlet, Act I, Scn III
20 March 2005
Dear Classmate:
Congratulations! You—We—all of us are winners—or about to be. We'll make our million dollar endowment goal establishing the museum endowment with just a bit more effort.
Remember, now is the last chance many of you will have before our 55th Reunion to be an original contributor to this legacy of the Class of 1950—a perpetual Museum endowment. Don't miss the boat!
We'll make it tho'. We just need a little help. As a Class we are committed. Right now about fifty guys are doing the heavy lifting—some very heavy! That means almost ninety percent are letting shipmates carry them. Thirty percent have yet to make a donation of any sort. This is supposed to be a team effort fellas!
We make it by recalling where personal character and values matured and started crystallizing—at the Naval Academy —and showing appreciation of that with appropriate measure. Polonius' advice to his son Laertes, given as he was about to sail off with "wind in the shoulder of his sails," was never more appropriate than now; to thine own self be true.
In the past, barring unfortunate exception, an affordable benchmark gift of $5,000 for retired flags; $4,000 for O-5s and O-6s; and $3,000 for all others was suggested over the five years of this drive. That standard has not changed. N.B.: For retired military, beneficial health care legislation, on average, has saved families more than $16,000 during this period while increasing individual retired pay and annuities by $10,000.
Here's why being true to thine own self is needed. Here's where we stand: $686K has been donated (including $36K in investment gains) and $75K in outstanding pledges for a total of $761K over the past five years towards the endowment. Against this there were $9K in management charges for a net of $752K over the five years. Short, short, short! A far cry from one million dollars in contributions!
Now, the rabbit! We have net investment earnings remaining from the initial museum effort marking our 50th, of $112K for a total in both museum funds of $864. The rabbit's a bunny, and flamed out. Another $30-$40K has been identified enroute from donors recognizing the timing situation of a reunion well in advance of the end of the collecting year. This is not enough. We are $100K short of the million dollar commitment!
Generosity—and that is what we really are talking about—is something that has to be sincerely felt. And there is a return or reciprocity; the satisfaction of a donor accomplishing something as a reciprocal act of thanks. The donee blossoms in the ability to provide a societal enhancement that is beyond individual donors' means.
Great discussion and debate has been held on such topics just as considerable lip service has been lent to our Class philanthropies and their pursuit. But for too large a number that talk is the moral equivalent of high school boys discussing sex. It bypasses romance, destroys poetry, ignores art—and, in lower forms of life, misses the reason spawning fish swim upstream this time of year.
We still have some stuck in the locker room when it comes to getting in the game but are fortunate enough to have committed, caring Classmates who more than compensate. There's not all that much time left in the maturation process to not truly enjoy one of the greatest aspects of life. The fortunate are already there.
Let's all join them in joyous urges of philanthropy and put a healthy contribution check made out to the Naval Academy Foundation in the enclosed envelope noting Class of '50 Museum Endowment in the lower left corner and make up the $100K shortfall.
I expect this to be my last solicitation letter. I also apologize to those who have already contributed (many more than expected--they know the joys) for too much beating the drum.
But all should spawn with the seed of contributing to our Preble Hall perpetual Museum Endowment.
"To thine own self be true and it will follow as the night the day, thou can't then be false to any man."!
We are winners!
Aloha,
Dick
J. Richard Powell, Jr. USNA Class of '50 Kneebasher
P.S.: If you have a question regarding other means of making donations such as investments, charitable gift annuities, credit card payment and haven't found the number on the Naval Academy Foundation web site, or SHIPMATE, don't hesitate calling me. Over the next three weeks I expect to be home every day except for 30 March and 15 April.
Also, it being IRS time of the year, call me if for tax purposes you need to confirm your annual gifts given to the Museum Endowment over the past five years.
See you in Hawaii !
---
Class of 1950 Christmas Carol Commitment - Dec. 22, 2004
United States Naval Academy Class of 1950 Museum Endowment
8123 Dunsinane Court , Suite B, McLean , Virginia 22102-2719
Home: 703-893-4584 Toll Free: 1-866-859-4362 Fax: 703-893-1802
24 December 2004
Re: Class of '50 Christmas Carol Commitment
Dear Classmates—Scrooges, too:
This is a genteel reminder dodging the daily stigma that engulfs your mailbox. Money grubbing trash mail on Christmas Eve.
I didn't even send out a mailing with an envelope for you to send a gift to the U.S. Naval Academy Foundation for accreditation to the Class Museum Endowment. (Of course, if you want it, call me and I'll give you the address and all the numbers to get the gift in the right pocket.) You can also find it on Jack Akin's Class Web site: http://usna50.8k.com/.
This is a reminder with but four months to go 'til Aloha time. A reminder that we, at best, are about $200,000 short of our goal of a million dollar endowment contribution to the Naval Academy in support of the museum in Preble Hall. But reminders should bring to the fore your own real efforts supporting our Class Project.
A few Classmates have been exceptionally generous and with the means supporting it; the Class is a fortunate beneficiary. Others contribute more than reality would suggest and will not be able to do this much longer—and shouldn't. I am reluctant to mail these over-contributors but suppress it out of a combination of goal achievement and knowing that they would have it no other way. There is no definition of equitability and fairness. The majority of donors' philanthropy is balanced and includes our project at a level they consider fair. Others don't respond to the level that would be considered normal—equitable. Still others have not contributed at all—one third of the class! These are the Scrooges of this Christmas Eve story.
I wish the Scrooges would reconsider their stand and become the butterflies their sleeping grubs represent. If financially possible I wish they would remember—the good, what was learned, who their life-long friends are, what the Mother Bancroft experience meant to them.
With less than 80% of the commitment identified and less than 10% of the soliciting time remaining, I feel somewhat like Charles Dickens in December 1843.—discouraged and in debt. But as the facts now stand unless the non-donor Scrooges step up other blessings will have to be reaped. Stranger things have happened: Scrooge saved Dickens' Christmas. I'm looking to Scrooge to help in ours too.
Appended to this letter is an attachment which reacquaints us with Dickens' A Christmas Carol--thanks to the Reader's Digest is--The Second Greatest Christmas Story ever Told .
Roy, who is making snow in Colorado with his family joins me in wishing all Classmates and Widow-Classmates a very Merry Christmas and a Happy, Healthy New Year. Paraphrasing the thanking grace of Tiny Tim: God bless ye Merry Gentlemen of '50!
Sincerely,
Dick
A Kind 'Basher due to Seasonal Influences—Bah, Humbug
P.S.:

Many thanks to Jerry Coleman and Jack Akin for their facilitating the distribution of this reminder.
Attachment
The Second Greatest Christmas Story Ever Told

BY THOMAS J. BURNS
(Originally published in Reader's Digest, December 1989)

From its first publication, "A Christmas Carol" has charmed and inspired millions. There have been scores of editions and translations, and many stage, TV and film adaptations, making it one of the best-loved stories of all time. Less well known is the fact that this little book of celebration grew out of a dark period in the author's career -- and, in some ways, changed the course of his life forever.

On an early October evening in 1843, Charles Dickens stepped from the brick-and-stone portico of his home near Regent's Park in London . The cool air of dusk was a relief from the day's unseasonal humidity, as the author began his nightly walk through what he called "the black streets" of the city.

A handsome man with flowing brown hair and normally sparkling eyes, Dickens was deeply troubled. The 31-year-old father of four had thought he was at the peak of his career. The Pickwick Papers, Oliver Twist and Nicholas Nickleby had all been popular; and Martin Chuzzlewit, which he considered his finest novel yet, was being published in monthly installments. But now, the celebrated writer was facing serious financial problems.

Some months earlier, his publisher had revealed that sales of the new novel were not what had been expected, and it might be necessary to sharply reduce Dickens's monthly advances against future sales.

The news had stunned the author. It seemed his talent was being questioned. Memories of his childhood poverty resurfaced. Dickens was supporting a large, extended family, and his expenses were already nearly more than he could handle. His father and brothers were pleading for loans. His wife, Kate, was expecting their fifth child.

All summer long, Dickens worried about his mounting bills, especially the large mortgage that he owed on his house. He spent time at a seaside resort, where he had trouble sleeping and walked the cliffs for hours. He knew that he needed an idea that would earn him a large sum of money, and he needed the idea quickly. But in his depression, Dickens was finding it difficult to write. After returning to London , he hoped that resuming his nightly walks would help spark his imagination.

The yellow glow from the flickering gas lamps lit his way through London 's better neighborhoods. Then gradually, as he neared the Thames River , only the dull light from tenement windows illuminated the streets, now litter-strewn and lined with open sewers. The elegant ladies and well-dressed gentlemen of Dickens's neighborhood were replaced by bawdy streetwalkers, pickpockets, footpads and beggars.

The dismal scene reminded him of the nightmare that often troubled his sleep: A 12-year-old boy sits at a worktable piled high with pots of black boot paste. For 12 hours a day, six days a week, he attaches labels on the endless stream of pots to earn the six shillings that will keep him alive.

The boy in the dream looks through the rotting warehouse floor into the cellar, where swarms of rats scurry about. Then he raises his eyes to the dirt-streaked window, dripping with condensation from London 's wintry weather. The light is fading now, along with the boy's young hopes. His father is in debtors' prison, and the youngster is receiving only an hour of school lessons during his dinner break at the warehouse. He feels helpless, abandoned. There may never be celebration, joy or hope again...

This was no scene from the author's imagination. It was a period from his early life. Fortunately, Dicken's father had inherited some money, enabling him to pay off his debts and get out of prison -- and his young son escaped a dreary fate.

Now the fear of being unable to pay his own debts haunted Dickens. Wearily, he started home from his long walk, no closer to an idea for the "cheerful, glowing" tale he wanted to tell than he'd been when he started out.

However, as he neared home, he felt the sudden flash of inspiration. What about a Christmas story! He would write one for the very people he passed on the black streets of London . People who lived and struggled with the same fears and longings he had known, people who hungered for a bit of cheer and hope.

But Christmas was less than three months away! How could he manage so great a task in so brief a time? The book would have to be short, certainly not a full novel. It would have to be finished by the end of November to be printed and distributed in time for Christmas sales. For speed, he struck on the idea of adapting a Christmas-goblin story from a chapter in The Pickwick Papers.

He would fill the story with the scenes and characters his readers loved. There would be a small, sickly child; his honest but ineffectual father; and, at the center of the piece, a selfish villain, an old man with a pointed nose and shriveled cheeks.

As the mild days of October gave way to a cool November, the manuscript grew, page by page, and the story took life. The basic plot was simple enough for children to understand, but evoked themes that would conjure up warm memories and emotions in an adult's heart: After retiring alone to his cold, barren apartment on Christmas Eve, Ebenezer Scrooge, a miserly London businessman, is visited by the spirit of his dead partner, Jacob Marley. Doomed by his greed and insensitivity to his fellow man when alive, Marley's ghost wanders the world in chains forged of his own indifference. He warns Scrooge that he must change, or suffer the same fate. The ghosts of Christmas Past, Christmas Present and Christmas Yet to Come appear and show Scrooge poignant scenes from his life and what will occur if he doesn't mend his ways. Filled with remorse, Scrooge renounces his former selfishness and becomes a kind, generous, loving person who has learned the true spirit of Christmas.

Gradually, in the course of his writing, something surprising happened to Dickens. What had begun as a desperate, calculated plan to rescue himself from debt -- "a little scheme," as he described it -- soon began to work a change in the author. As he wrote about the kind of Christmas he loved -- joyous family parties with clusters of mistletoe hanging from the ceiling; cheerful carols, games, dances and gifts; delicious feasts of roast goose, plum pudding, fresh breads, all enjoyed in front of a blazing Yule log -- the joy of the season he cherished began to alleviate his depression.

A Christmas Carol captured his heart and soul. It became a labor of love. Every time he dipped his quill pen into his ink, the characters seemed magically to take life: Tiny Tim with his crutches, Scrooge cowering in fear before the ghosts, Bob Cratchit drinking Christmas cheer in the face of poverty.

Each morning, Dickens grew excited and impatient to begin the day's work. "I was very much affected by the little book," he later wrote a newspaperman, and was "reluctant to lay it aside for a moment." A friend and Dickens's future biographer, John Forster, took note of the "strange mastery" the story held over the author. Dickens told a professor in America how, when writing, he "wept, and laughed, and wept again." Dickens even took charge of the design of the book, deciding on a gold-stamped cover, a red-and-green title page with colored endpapers, and four hand-colored etchings and four engraved woodcuts. To make the book affordable to the widest audience possible, he priced it at only five shillings.

At last, on December 2, he was finished, and the manuscript went to the printers. On December 17, the author's copies were delivered, and Dickens was delighted. He had never doubted that A Christmas Carol would be popular. But neither he nor his publisher was ready for the overwhelming response that came. The first edition of 6000 copies sold out by Christmas Eve, and as the little book's heartwarming message spread, Dickens later recalled, he received "by every post, all manner of strangers writing all manner of letters about their homes and hearths, and how the Carol is read aloud there, and kept on a very little shelf by itself." Novelist William Makepeace Thackeray said of the Carol: "It seems to me a national benefit, and to every man or woman who reads it a personal kindness."

Despite the book's public acclaim, it did not turn into the immediate financial success that Dickens had hoped for, because of the quality production he demanded and the low price he placed on the book. Nevertheless, he made enough money from it to scrape by, and A Christmas Carol's enormous popularity revived his audience for subsequent novels, while giving a fresh, new direction to his life and career.

Although Dickens would write many other well-received and financially profitable books -- David Copperfield, A Tale of Two Cities, Great Expectations -- nothing would ever quite equal the soul-satisfying joy he derived from his universally loved little novel. In time, some would call him the Apostle of Christmas. And, at his death in 1870, a poor child in London was heard to ask: "Dickens dead? Then will Father Christmas die too?"

In a very real sense, Dickens popularized many aspects of the Christmas we celebrate today, including great family gatherings, seasonal drinks and dishes and gift giving. Even our language has been enriched by the tale. Who has not known a "Scrooge," or uttered "Bah! Humbug!" when feeling irritated or disbelieving. And the phrase "Merry Christmas!" gained wider usage after the story appeared.

In the midst of self-doubt and confusion, a man sometimes does his best work. From the storm of tribulation comes a gift. For Charles Dickens, a little Christmas novel brought new-found faith in himself and in the redemptive joy of the season.
---
Posted 4/24/04: (From Dick Powell)
United States Naval Academy Class of 1950 Museum Endowment Trust

8123 Dunsinane Court
, Suite B,
McLean
,
Virginia
22102-2719
Home: 703-893-4584

Toll Free: 1-866-859-4362

Fax:

703-893-1802
23 April 2004
Dear Classmates—The Loyal and The Philanthropic and The Others:
A year from now we will be concluding the celebration of our 55th Anniversary and Reunion in Hawaii .
A vintage milestone in a tropical paradise and delightful company enjoying a great reunion. It all started in the summer of 1946 at Bancroft Hall.

Aside from pondering the imponderable of how we managed to get this far--or lived so long--we have another question to answer over which we have control:
Will we have succeeded in our goal to fund a million dollar
endowment for the benefit of the U. S. Naval Academy Museum, Preble Hall, in celebration of our 55th—or not?
I'd like to not even think about the "or not."
It's not an option. That's failure.

But right now we ain't hackin' it.

I'd like to think that it's because I've not kept you well enough informed.

Informing, aka soliciting, is a delicate balance between appealing to your generous instincts of contributing to society and annoying you with telemarketers at dinner time.
I'll run through some numbers to enumerate how much we're short with only a year to go.
In May 2000 new contributions to the original Fifty Fund were redirected to the new Museum endowment effort.

With momentum and the salutary influence of a superb Fiftieth the new drive got off to a running start—ironically, as in turtle and hare.

As of 29 March 2004 (last full month to reflect investment income) almost four year totals include:
Cash and equity contributions amount to $ 451,153; plus active pledges $141,746, for a soft (N.B.:

$9K in pledges written off over past month) total of $ 592,869.

That's $ 407,131 short!

Hello sleeping

rabbit
There are other pockets but they are being strained.

After some bad years starting in 2000, our small nascent poke suffered investment losses of over $22K but recovered to the extent that $ 58,572 was added to the bottom line; new total Endowment Fund value, $ 651,441, still short $ 348,559!

Or, an average three years of one-mailing-a-year contributions.

But, hold on—
Service costs incident to managing these funds since the endowment's inception has amounted to charges of $ 36,343; new grand-soft-total of $ 615,098; short

$ 384,902.

Ain't gonna make it at this rate.

We need to pull more than just one rabbit out of the hat on this one—we need rabbits.
The first rabbit is a gimmee.

We have used the past, non-dedicated investment returns from our original Fifty Fund efforts to sidestep Federal Acquisition Regulations, Davis-Bacon, et al to most efficiently underwrite other Class or Museum initiatives such as the renovation of our Thirtieth corner and Yard Map directory while providing temporary loans to other Museum projects via Syndicate loans.

The intent has been to roll these working monies into the Museum Endowment at the latest possible date and still make our goal, time-wise—our 55th in 2005.

This "holding off" is because we, the Class, enjoy more flexibility with this account in it's current classification rather than tied to extant conservative policy constrictions applied to endowments.

Long story—much longer than you even want to hear.

What you want to know is that these monies are currently valued at $ 108,786 with another $ 20K Syndicate loan repayment due to by April 2005.

Ergo, we have a Fifty Fund reserve of $ 128,786.

For argument's sake adding this to the poke will bring us to $ 743,884, or short $ 256,226.

Only a year to go!

All current elasticity has been used—except you.
So wake up rabbit!

Using means other than relying solely on charity has reduced the contribution shortfall by over $150K!

Now wake up and do your thing—or the greyhound will get you!
All elements we can control are being used—except one that you must provide. Anything more from me and I'll be drinking rainforest runoff, dining on
monkey gland soup, cous-cous, baked in palm frond armadillo and fried banana, wiping (my hands) on my loin cloth.

I'm not asking for your first born.

You don't have to sell a kidney—yet.
No more Mr. Nice Guy!
There are 365 days left.

This is not a begging letter.

This is a dammit letter.

It states the requisites to satisfy an element of honor—a million dollar pledge—that also happens to be denominated in money.

DONATE!
There must be broader and deeper Class—486 person strong—participation in this fund-drive.
At the end of 2003 after almost four years only 221 Classmates and widows had made gifts—42%.

Those loyal 42% are thanked not only for their gift but the example set.

But the response is abysmal—72% is the norm.

The average amount of gift is similarly deficient.

Success is up to you—so is the failure we presently face.
In my way of thinking any 'Mate should be embarrassed to have not contributed substantially since April 2000. As a guide, a five year total of at least $2,000 by our 55th is suggested for non-service retirees and a similar amount for O-4 (LCDR/MAJ) service retirees…$ 3,000 for O-5 (CDR/LCOL) and $ 4,000 for O-6 (CAPT/COL)…retired Flags, $5,000.
Incidentally, all service retirees have saved over $10K in the last three years on supplemental health insurance and two inflation protected annuities.

Of course, don't let the amount suggested limit your philanthropic urges.

Give more; thank you.
-2-
OK--pick your teeth up off the deck. This isn't an IRS deficiency notice.
But, martini's
are no longer 25c either.
Too many are hiding. Slinking off.

Skating.

Maybe it's the time-goes-by-so-fast phenomenon of aging.

Some, unfortunately, can honestly not afford what is proposed—but is that you?
One size doesn't fit all but it's a point of departure and apparent that some could be helped with a reminder.
The loyal, regular contributors are carrying a disproportionate weight.

Are they carrying your load?

Remember, we are not making it despite individual laudatory acts of generosity and appreciation for an endowed Museum means to the preservation of the history of the Naval Academy and what its' matriculants have, and continue to contribute to our services, society and nation.
You're not going to take it with you, so get some credit for it.
And remember, it's a Schedule A deduction.

If you are trying to beat a fed fund rate increase to take some profits and need security transfer instructions to take even further advantage of our philanthropy favored tax laws, they are on the Class web site, or e-mail me.

Call me toll-free.

If I'm not answering the numbers on the masthead I may be at the beach cottage, toll-free—1-866-859-4363.
Remember to annotate your contributions to the Class of '50 Museum Endowment, otherwise it could be credited to the Foundation's unrestricted coffers which is always sniffing and becoming increasingly subtle.
Remember, our fund raising is relieving an obligation of the Alumni Association Foundation's support of the Supe's Centers of Excellence Program.
Your check payee is: U.S. Naval Academy Foundation (with notation as above) using the enclosed envelope, or via me if you prefer (I'm doing the kneecapping), or if you lost the envelope, address at PO Box 62203 ; Baltimore , MD 21264-2203 .
Your donation will help create the first seed for an endowment in perpetuity for the Naval Academy Museum , Preble Hall.
Concurrently, the Class of 1950 will have created a lasting memorial that truly makes a difference.

A good marker.
Thank you for doing more than you intended and all you are able.
Your minion,
Dick
J. Richard Powell, Jr.
Class of '50 'Basher
Enclosures
P.S.:
Good news!

Our Hawaiian Hosts for the 55th have graciously offered to name the opening Welcome Cocktail Reception on 18 April 2005 in honor of those individuals contributing, as a result of this letter, $10,000 in support of the Museum Endowment.

I'll be looking for these generous contributions.

Understatedly, they will be noticeable.

JRP
---
Posted 11/08/03: (From Dick Powell)
United States Naval Academy Class of 1950 Museum Endowment Trust
8123 Dunsinane Court, Suite B, McLean, Virginia 22102-2719
Home: 703-893-4584 Toll Free: 1-866-859-4362 Fax: 703-893-1802
Fall 2003
Dear Loyal Classmate:
I lied.
I didn't intend to lie.
It just turned out that way.
I apologize—for poor judgment and giving in.
In my last letter to you a year ago I got on my soapbox and benignly announced that I was turning the grunt work of fund raising back to the Foundation now that they had found a suitable fund-raising marketer.
Well, the proof is in the pudding. Results were lousy at only about sixty percent of what our direct mail pieces had been drawing. So I'm back at it and I'll say no more about this ill-conceived evolution into polite, sponsored pick-pocketing called telemarketing. We knew it going in. Now we've proven it but not without significant costs in time and wasted effort.
I didn't abdicate as the Class Kneebasher! We're about two-thirds of the way towards our 55th Reunion in Hawaii and have fallen behind the curve on donations versus a time line plot.
You've heard all the bromides so I'll just lay out some facts:
-- We are over $400K short of the Class of '50 Endowment goal of $1M.

-- This shortfall would be $50K greater were it not for investment capital gains.

-- Classmate donations to other Foundation sponsored activities--primarily unrestricted donations--amount to about $80K (not credited toward $1M goal). This does not include the Kinnear and Nolan programs of $4.2M and $500K respectively. Or the Ryan squash courts, either. Aside from these personal projects all are very generous donors to Class efforts with overqualified lifetime memberships in the President's Circle as well.

--Museum Fundraising is supported by eight classes—aka The Syndicate—with '50 and '51 the first plankowners providing bridge loan financing guarantees.

-- Planned Museum renovation capital expenditures will exceed $15M (second only to

Memorial Stadium's $40M) with $7.5M expected to be paid by private subscription.

-- Alumni Association/Foundation sponsored projects—such as the museum—require cash on hand prior to letting a contract; there are no bridge loans although near term pledges may be considered. This is where Syndicate guarantors really come in.

-- Shortfalls in Foundation/Class supported projects, by default, become a liability or are covered by NAF unrestricted funds and thus are not permitted.

-- NAF long term capital fund raising campaign is well ahead of the curve at $167.5M at the 30 month point and a two-year hence goal of $175M. You can track these through www.usna.com (or directly with http://usna.com/Foundation/Campaign/Chart.asp.)
I could go on but some immediate conclusions appear apparent:
-- Despite recent difficult economic times sapping investment portfolios, large NAF investor/donors remained committed even if at reduced sizes. (Well balanced giving plans.)

-- Individual Classmate contributions may have been hurt by the economic conditions as well as by the disaffection regarding the means of solicitation--TM.

-- Classmate failure to credit contributions to the Class of '50 Museum Endowment deliberately, or otherwise, deprive the Class of contributions. These unrestricted monies are credited to NAF's capital campaign which is ahead of schedule thus not making the most efficient use of the contribution (cash) flow. This is not meant to cannibalize NAF income inasmuch as they have bills too—just to keep the distribution balanced as long as bridge loans are not available and we have a goal date to meet.
Let's look at some other factors:
-- Pro: For those with military retirements Tricare For Life is worth about $3,200 a year. You are ahead of the game by about $10K now. This saving would fund an annual President's Circle membership and leave something over

-- Pro: The above living near Military Medical Facilities avoid significant drug costs, frequently several hundred dollars a month. Others have commercial discounts not available to the general public

--Pro: The same lifers have had a generous (socialist, voter based) system increase their retired pay at a greater rate than inflation over the past fifteen years in large part, because inflation has been under control.

--Pro: "Senior citizen" bennies largely offset much—take the 10%! Plus, chances are you imbibe less, or not at all. And, because your tail may be dragging you ration the traveling, rigorous stadium climbing, skiing, late theatre tickets, Four Seasons excesses, chasing high-heeled, long-legged types who don't know how to cook, etc. Now, I'm not saying all those things are eschewed—you just don't pursue them with quite the same vigor and fervor. You can achieve them with cunning and deceit and much less effort.

--Con: The anticipatory salivating was fun—and there was no dollar value cost. Fantasy.
This line of thought could go on forever and run us out of postage to say nothing of putting you to sleep before you got your checkbook out. The point is that, health problems aside, as a group we all have a lot to be thankful for and are pretty well off. A lot aren't carrying their fair share.
Sure, we groused and paid for it in past sacrifices--some with the ultimate commitment—their lives. They, of course, can't contribute. Laudably, some have made donations in the names of dead Classmates and Shipmates, but not many. We're down to 492 Classmates living out of 691 graduated and when I started these letters nine years ago, 516. Actuarially not bad. But mortality is the enemy of a fundraiser's contributor base. All along I've attempted to base Class fundraising on a broad all inclusive populist base—making room for everyone in the boat. It seemed more of a team effort—where one might have been a little short another would without hesitation fill in with a shoulder to the wheel. This has worked until now.
The margin of donor elasticity in this market of 492 may be being pushed.. This year there have been only 100 (exactly) donors through October. Normally, I'd have 70 to 80 more with the next tax conscious 100 coming in during December. This is concerning and not an appeal to elitism.
There is nothing wrong with elitism as long as the hatband still fits and everyone has a chance to participate, or isn't left out of consideration based on some measurement over which he has little control. Not choosing to abuse the blessings of wealthily successful Classmates to subsidize others with shoulders to the wheel is deliberate. Relying on them is a socialist-liberal solution. These Classmates genuinely offer anyway and tempt fundraiser restraint to crass shortcuts. Choosing sides in a sandlot game can do this to you. But if that guy who wants to play doesn't show up to be chosen—or be rejected—he will never know. And he will never make it on his own—a loser.
We, the USNA Class of 1950, don't have any losers. Prove this statement with a contribution more than you thought yourself capable. Or prove it by making a first, even an only, donation. Over the years non-donors represent an abysmal twenty plus percent of our Classmates! Other demands are recognized but, zero participation? Hard to believe. Recall Browning's oft quoted concept of establishing goals: A man's reach should exceed his grasp, or what's heaven for?
Use your "man's reach" for your check book now. Do the right thing. Think of what you will tell your grandchildren if they ask you about the Naval Academy. What if one wants to go to the Naval Academy. Do you help? Can you? Have you made it a better place? Are you in heaven? Make the reach.
We have entered the season to present nominations for the honor of Distinguished Graduates and our Class is in the red zone. Amongst peers, anyone who has helped with Class Goals is already a distinguished graduate with a supportive donation. Write your check to the Naval Academy Foundation with an annotation in the memo section of: Class of '50 Museum Endowment. Any questions, or needing instructions to make a contribution of a security, or want me to convince you more just call me toll free at 1-859-4362.
For those who get this message without a return envelope the address is:
U.S. Naval Academy Foundation

P.O. Box 62203

Baltimore, MD 21264-2203
I owned up to being a liar and paying the penance with this missive. Now if you haven't already made a contribution or are making yours now keep in mind that we are lagging. We must have some losers—but it's difficult to believe. Don't let it be so. Thanks much guys.
Sincerely,
Dick
J. Richard Powell, Jr.
Class Kneebasher
---
---
Posted 12/16/01:
United States Naval Academy Class of 1950 Museum Endowment Trust
8123 Dunsinane Court, Suite B, McLean, Virginia 22102-2719

Home: 703-893-4584 Toll Free: 1-866-859-4362 Fax: 703-893-1802

Christmas Season 2001

Dear Classmate:

My apologies for getting this letter mixed up in all your holiday mail--plus all the appeals for divers charitable contributions.

But, with swift thinking (duh!) getting the new 2001 Class Register to you in 2001 seemed important. It

's dated 4 July 2001 but the corrigenda (see over) updates it. We can all thank Larry Hawkins for this massive effort in creating a useful Class Christmas gift.

If at this point you think I might be asking for something in return, my spots haven

't changed--you got it!

Also, you should have gotten this more than three months ago but it became prudent to verify procedures for the optimal use of gifts in support of the Academy Museum, Preble Hall. This done, your last minute opportunity to take advantage of a 2001 tax deduction is at hand.

At our Fiftieth last year, you heard the announcement of our current Class Goal--sponsoring a million dollar endowment in support of the museum. Copies of this endowment trust agreement were in my last letter to you. The Challenge Fund consisting of very generous commitments from as many as 18 Classmates amounts to about half-a-million bucks when the overshoot (investment income) from our initial museum effort is included. The challenge is for the rest of the Class to match the half-mil.

Now that really is a challenge and if I were a hired fund-raising hand I

'd fire me for non-performance. To-date there have been 49 (not even '50') Classmate donors other than the 18 awaiting in riposte. This is sad. I am sad. I feel like a rubber-beaked woodpecker in a petrified forest.

The good news is that the bad news is not because of a lack of generosity. Two Classmates have established programs that are counted in the millions. Others have specific interests such as the honor chair, chapel, athletic and scholarship programs. These are recognized and honored. There have also been 71 unrestricted (non-designated purpose) contributions made to the Alumni Association or the Foundation since our reunion.

Lacking a specific objective, unrestricted support is recognized, but remember: (1) Projects, such as the Museum that are in the Supe

's Strategic Plan are underwritten by the Foundation to the extent that they are not specifically supported by Classes, thus were we not supporting the Museum, the Foundation would have to do it out of unrestricted funds; (2) We are "taxed" five percent on all restricted gifts to cover overhead. Unrestricted gifts count towards a Class but not a specifically designated Class Project. Connect the dots. We have a specific objective.

In this season of gratitude keep in mind that a majority of us are now benefiting from new legislation providing supplemental Medicare coverage—Tricare For Life—a savings of over $2,000 a year. Please consider sharing this bonanza and share yourself in meeting the Challenge.

There are fewer than 500 of us left; almost30 percent seem never able to contribute—you do the math and make your check to the U.S. Naval Academy Foundation with a notation on the lower left, Class of

'50 Museum Endowment or Account #8150, and mail it in the enclosed envelope.

Thank most of you in advance, and others belatedly, for your generosity. And most of all, a very Merry Christmas, Happy Holidays and a Healthy New Year!

Sincerely,

J. Richard Powell, Jr. Call toll free if any questions: 1-866-859-4362 or check

Chief Kneebasher

'50 Jack Akin's Class web site: www.usna50.8k.com/
---
Posted 7/13/01:
United States Naval Academy Class of 1950 Endowment Trust
8123 Dunsinane Court, Suite B, McLean, Virginia 22102-2719
Home: 703-893-4584 Toll Free: 1-866-859-4362 Fax: 703-893-1802
Bastille Day 2001
Dear Classmate:
I need your help. Get me out of jail. This is an appropriate day. Let's mark it. No Marseillaise accompaniment, just Navy Blue and Gold. But help get me out of jail!
I'm not in "jail" because I'm in Brazil with all your generous contributions--despite what some of our friends may think. I'm in "jail" because I'm constrained. I'm constrained because like Tantalus every time I think I will get my drink of water, the water recedes. The thirst becomes greater.
Six years ago we started a fundraising program in support of Preble Hall--the Naval Academy Museum. It took your generosity of over half a million dollars with the syndication assistance of six other Classes because the bill for the first gallery commemorating our Fiftieth was over $1.6M. The Syndicate solved the lack of bridge loans from a financially strapped Alumni Association. Despite schedule slippage on all Yard projects we managed to get our gallery on time with Syndicate money in hand and with direct, private contracting--something USNA can't do.
At our Fiftieth we announced a new goal--a million dollar endowment trust. Endowment income is to support the museum for those items of excellence that appropriated funds do not cover. Ergo, I'm thirsty again; I'm constrained, I'm in "jail." I'm back fundraising.
Three cars will continue to sit in my driveway. The garage will remain an eclectic collection of mahogany, walnut, oak and narawood awaiting fabrication that will absolutely minimize waste; projects caught in mid-job and perhaps destined to remain that; broken furniture; and antiques that are fixable but "too valuable" to throw away. It's going to wait until I get out of "jail," or am no longer constrained.
Fundraising isn't just the simple act of writing a letter asking for contributions, stating why and hoping for the best. It's individual bookkeeping and keeping track of where the promotion is, then, where the overall project is; working with the Syndicate; working with the Academy and the Museum, meetings with the Foundation, architects, designers, suppliers, writers, audio/visual, etc. It's TIME; it's JAIL.
Were it not for our attention to Public Works' proposed schedules the back museum gallery we sponsored would not be in existence yet!
Fortunately in the metropolitan Washington area--stretching to Annapolis--there is a lot of assistance. But it takes their time too. Larry Hawkins is a cell-mate. He keeps the contributions and register data bases--as well as providing computer listings, name tags, etc., you name it. If you spring me you get Larry too (almost). The name tags keep needing bigger and bigger print.
Milt Schultz and Roy Snyder as Class Presidents have been absolutely unstinting in their time attending meetings holding feet-to-fires on schedules. This past winter Roy immediately arranged a meeting with the Supe when it appeared that museum rehab had slipped; he did it again later in the spring along with the Academic Dean and the Supe together. Our constant oversight in the Museum's refurbishment and modernization permitted it to be the first USNA Center of Excellence to reach a tangible level of fruition.
This permitted the Supe to point it out as positive results of the adoption of his Strategic Plan for the 21st Century to USNA Trustees and supporters. This would not have occurred without our Syndicate leadership and heel snapping.
Serendipitously, it also lead to USNA organizational streamlining in having the Museum Director report directly to the Academic Dean; i.e., one level below the Superintendent and no interceding academic department head competing for his budget.
A political base had been established. Roy now sits on the USNAAA Board of Trustees representing all Classes of the '50's.
All right, now how can you help get me out of jail? Simple, send money with a check annotated Class of '50 Endowment Trust made out to:
U. S. Naval Academy Foundation
Processing Center
PO Box 62203
Baltimore, MD 21264-2203
How much? All you can--that tax rebate for starters. Seriously, you don't absolutely need to send money now. We have almost five years till our reunion in Hawaii in 2005. And, it would be nice to announce having achieved our million dollar goal by then. But I'd like to get out of "jail" before 2005. My wheels in the drive will be heaps of rust by then.
Bluntly put, I want your pledge. It's my "get out of Jail" card. Here's a simple way to make it:
Send me an E-mail with your: name, mailing address, total amount of pledge, period of time over which you will amortize the pledge, when you want to start being sent reminders, periodicity of reminders (monthly, quarterly, semi-annual, annual). I will acknowledge your pledge and forward it to the Foundation to put in their pledge follow-up system. They will also send acknowledgement. I know some of you are on a pledge regimen now and I will not duplicate these, but reminding me helps too.
For those who want to use a credit card or automatic check debiting let me know and I'll send instructions. For those who want to contribute securities, instructions can be found on the Class Web Site (maintained by Jack Akin) at
usna50.8k.com/
. The site has a lot of interesting info but instructions can be reached by clicking on "USNA Museum" on the index, then to "Fund Raising", and scrolling down to
Security Transfer Instructions.
For those who don't want to make an absolute commitment because of creating what they consider a liability, let me know what you think you might be able to donate--and still get to Hawaii in 2005. I will not pass this number on unless, or until, you tell me to. In the event of adversity let me know this too. No pledges are written in cement. I'm looking for planning purposes too. It's been a long sentence.
Let me get a "Get out of Jail" chit, now. Please!
Sincerely,
Dick
.
Kneebasher
Class of 1950
P.S.: Don't forget that a simple $10,000 pledge will qualify you for selection as a Trustee for the Class of '50 Endowment Trust. The Trust Agreement can be accessed on the web site. Of course, given equal qualities of character, $25K might be considered a better qualifier.
---
Posted 6/20/01:
19 June 2001

Jack:

I had asked the Museum Director, Dr. J. Scott Harmon ('64), Professor of
History at USNA, To send me any comments that he had received in regard
to the new Gallery in Preble Hall that we sponsored for our Fiftieth
Anniversary Gift to USNA and are continuing to support with our Class of
'50 Endowment Trust. They follow below. It softens some of the skin
that has had to become calloused over the fund-raising years but more
importantly it is a dynamic example of how our relatively small
fund-raising effort has been leverged into a strong positive effect. We
are indebted to Scott for his stewardship. And our Class for their
continued generosity which eases my job.

Warm regards,

Dick, aka 'Basher, Class of '50
------------------------------------------
18 June 2001
Dick:
I don't think I can answer your request in the detail you would like;
most of the comments are from people who just walk up to the office, or
one of the staff, and say how great they think the Museum is,
particularly the new gallery. And letters present a privacy issue. But
what I have done is to go through my calendar for the past year and
select the scheduled visits and special uses of the Museum, things that I
feel would not have been done if it had not been for the new gallery.
Each of these has elicited wonderful praise and comments from the people
who participated.
June 2000: Dr. Benjamin Cuker, from Hampton University, brought a group
of his students who are participating in the Minorities At Sea Training
(MAST) program. They sail up and down the coast in a sloop and stop at
maritime sites. I gave them a lecture in the Cold War Theater, using the
equipment to give a multimedia presentation on the U.S. Navy's role in
the suppression of the slave trade (which happens to be the subject of my
dissertation). They liked the presentation and the Museum so much that
they are returning this year.
Ac Year: In the years prior to this past one, only one History professor
made regular use of the Museum as a teaching tool. Shortly before we
opened last year I gave a walk through to the Plebe Naval History
instructors. This past year we had at least half a dozen instructors
bringing their classes to the Museum, including a professor from the
Oceanography department.
Oct 2000 I made a presentation at the Officers and Faculty Club on the
history of the Museum to the local chapter of the Alumni Association.
Following dinner and the presentation, I conducted a guided tour of the
Museum. It was approximately one and a half hours and was followed with
rave reviews from the guests.
Nov 2000 The Cold War Theater was the venue for the "Poetry Café" in
which midshipmen and faculty read poems relating to war. In March the
Poetry Café presented poems in honor of Women's History Month. At the
second session, the multimedia capabilities of the theater were used. The
location is popular, we had to get all of our benches and still there was
standing room only. Regular visitors enjoyed the experience also,
stopping to listen.
Jan 2001 A delegation of the Royal Canadian Mounted Police visited the
Museum. That organization is planning to create a museum at their
training academy and wanted to see ours as a model for their's.
Feb 2001 I gave a tour of the Museum to the residents of Ginger Cove. It
is fun to give tours to Navy and Marine veterans. They know a lot about
the events depicted in the Museum and it become a two-way experience: I
mention something and they amplify with their own experiences.
Mar 2001: The Cruising Club of America met at the Officers and Faculty
Club for dinner. I was invited to give a presentation on the history of
the Museum and then led them on a tour of the Museum, particularly the
new gallery.
Mar 2001: A three-day symposium on Naval Forces Under the Sea was held at
the Academy. The Museum supported the symposium by providing an exhibit
case for use in Alumni Hall and by having a photo/biographical plaque
created to memorialize "Swede" Momsen. After a formal presentation of the
plaque to Momsen's son and granddaughter at the symposium banquet, the
plaque was installed in the USS S-4 and Squalus case in the new gallery.
Mar 2001 Members of The Ancient and Honorable Artillery Company of
Boston, Massachusetts, visited the Museum. I gave them a two hour tour
which was very well received. (Except for one letter that complained that
I did not have any mention of one of their members, a USNA grad, who had
been awarded the Medal of Honor in Korea.)
Apr 2001 Gave a tour of the Museum to members of the Class of '41 who
were here for their reunion. One of their members was Sheldon Kinney who
was Commandant of Midshipmen when I graduated.
We have received letters of thanks and appreciation from a number of
these groups. But most gratifying are the comments from people who come
to the Museum and leave, impressed with the collection and how
beautifully and educationally we display it in the new gallery
---