The Bob Monroe Legacy
(Preserved from his former "President's Corner"
(Back)
---
---
Posted 11/26/14 (Bob Monroe's Decision to Resign Class Presidency)
Class Leadership Group and key managers,
This replaces a partial-draft message I mistakenly sent about 15 minutes ago.
Regrettably, for reasons of physical disability, I must hand over the Class Presidency as soon as a successor can be elected. I will make this public at our Class Luncheon on Thurs, Dec 4, at LaPorta's; and I will inform our classmates by email and letter that same day. I wanted you class leaders – Class Leadership Group, three Communications Managers, and Reunion Manager – to have this private word in advance.
The sole reason for my decision is two totally unexpected major physical setbacks I've experienced in the past two months. In early September I abruptly lost most of my hearing ability; and in mid-September I suffered a compression fracture of my third lumbar vertebrae, greatly restricting my movement. The USNA Class of 1950 must have a President who is able to travel and attend meetings, and who can hear what's said at meetings. I can do neither at present.
As I'm sure you know, I'm absolutely determined to recover some reasonable level of both capabilities, whatever it takes, if it can be done. I've undergone two hospital spinal procedures in the past few weeks, and the vertebrae has been stabilized. With time, therapy, and dedicated exercise regimes I hope to reduce the pain and increase my mobility. As for my hearing, I've already taken the first steps toward having cochlear implants. However medical science makes no promises with regard to improvement in either spine or hearing. Char has devoted every minute – from day one – to helping me, without which I could not have survived...and she's still at it. I'll be focusing 100% on regaining strength and following recovery programs.
I was immensely proud to be voted your Class President in early 2009; and BEING President of the U.S. Naval Academy's GREAT Class of 1950 for the past six years has been the greatest honor I could ever imagine. I have treasured every minute of it, and I had hoped to continue for years.
Fortunately, we have many excellent candidates to take over as Class President. Our other three class officers are all superbly qualified, as are other class managers and members of our Washington-Annapolis classmates. I'll be here to assist our new President in any way needed.
Our Class Nominating Committee, chaired by Milt Schultz, has arranged for the election of our new Class President. It will take place at our succeeding Class Luncheon on Thurs, Jan 8, at LaPorta's, and turnover of the Presidency will take at that time.
With great sadness, but with unbounded confidence in our combined futures,
Copy to Bill Diehl by mail.
All the best,
Bob Monroe
703-242-8756
---
Dear Classmates,
As many of you know, a few months ago our classmate (and Class Treasurer) JJ McNally conceived the idea of a possible Alumni Association (AA) award to honor our Navy and Marine Corps shipmates who are not Naval Academy graduates.
Our Distinguished Graduates and the Class Leadership Group have since been reviewing and commenting on JJ's proposal – with overwhelming broad approval – and I have now officially submitted it, with the Class of 1950's endorsement, to the AA.
Attached is a copy of the complete submittal, consisting of four documents: Class of 1950's endorsement to the AA; the proposal itself; JJ's original letter to me; and his supporting rationale. As you open the attachment, note that these four documents are separately spaced, in order to print properly. Should any of you be unable to open the attachment, please let me know and send you an email with the complete attachment pasted thereon.
I'll keep you informed of developments.
For Jack Akin: Please post this message and the attachment (four documents) on our class website.
For Chuck Mull: Within the next few days I'll condense this message and the entire submittal into one paragraph, for you to use as the "President's Corner" message in our class column for the Nov-Dec issue of Shipmate.
For Bill Wulftange: When we get an initial response from the AA, I'll give you a message to inform all classmates (on email) of JJ's initiative and it's progress.
My congratulations to JJ, and my appreciation to the many who have contributed to this initiative.
Copy to Bill Diehl by mail.
All the best,
Bob Monroe
703-242-8756
---
---


-----Original Message-----
From: Robert Monroe [mailto:rrmonroe@cox.net]
Sent: Friday, October 18, 2013 5:59 PM
To: Forbes; byleeby@comcast.net
Cc: 'Tom Ross'; jmcnallyj@gmail.com; jmhenderso@verizon.net; Wulftange;
Akin; Tripp; Mull
Subject: RE: Classmates Who Have Not Responded to 65th Reunion Notices



For Deke: WELL DONE! You've managed the reunion class communications
business with superb effectiveness! You developed the overall plan in April
and May; you then handled the original mailing of about 500 letters to
classmates, widows, and non-graduates on June 15. Then came your tracking
of every single response (yes, no, or maybe). That, in turn, led to Bill
Wulftange's emailing (and your mailing) of our "second notice" in early
September to non-responders; followed by your tracking of every response
from that group of about 115 classmates. And now, thanks to the accuracy of
your work, we're left a manageable group of some 72 classmates who haven't
responded to either notice. You couldn't have done it better! All of us
responsible for managing our 65th reunion are in your debt!

From now on, I believe only Byron should receive your report of new
responses received, and once the hotel contract is signed your report can
probably be on a monthly basis instead of weekly.


For Byron: The responsibility for maintaining our class's attendee list for
our 65th now shifts from Deke to you. Three suggestions:

(1) You might consider setting up a telephone team, whose immediate
task will be to contact these 72 non-responders by phone and attempt to get
them to send you our reunion "Response Form." Or, failing that, at least
get a yes-no-maybe intention about our 65th. We learned, in the run-up to
our 60th, that the telephone is a MUCH more reliable medium than either
mailing or email for actually reaching classmates and getting their
intentions. Deke -- who managed the telephone team which saved the class on
our 60th -- can probably give you good suggestions on it. This initial
telephoning task should be completed before we enter reunion contract
negotiations with DoubleTree, so we have the best possible "going-in"
number. If the members of your telephone team are well-coached beforehand,
they can find out many additional bits of information of great value to the
class (desire [or lack of] for remaining an active class member, wife's
status, his address, email, phone, etc.) I believe you'll find this same
telephone team will also be vital during the final six months or so before
the reunion (starting about a year from now).

(2) I suggest you also now commence emailing your "probable
attendee" list to addressees of this message and your reunion team. This
will be the SOLE list we'll all use, for every aspect of reunion planning.
It should contain ONLY yeses and maybes...NO "nos." You might send it
monthly initially, and probably more frequently later. This list is the way
we'll all keep up to date on classmates' changes-of-plans about attending,
their injuries, disablements, deaths, etc.

(3) Since you're now "the keeper of the list," It's vital that all
seven members of the class communications team (Forbes, Wulftange, Akin,
Mull, Tripp, Woodbury (at the Alumni Association), and me), plus some others
(Ross, Henderson, McNally, etc) know that they should give you every scrap
of information they may come across that might impact classmates' reunion
attendance. I'll tell Timothy Elizabeth Woodbury to add you to our list.
Quite often she's the first to hear of a classmate's death.
.
All the best,

Bob Monroe
rrmonroe@cox.net
703-242-8756

---
Posted 7/26/13: (Pat Kittler Appointed Stand-by Webmaster, fromBob Monroe)
Dear Pat,

What a marvelous response (below)!

Your feelings in volunteering were the same as mine, four (plus) years ago, when I was asked if I would accept the job as class president (if elected). I was swamped with other commitments, but I said yes because I felt I owed the Naval Academy – and our wonderful class – everything, and I hadn't paid my dues (other than $). In 38 years with the Navy and 22 years with Bechtel I had just been so busy I had never been able to take a class position. Today, our classmates are my best friends in the entire world!

I've just talked to Jack Akin, and we both don't want to wait another day before welcoming you into the fold. So you're now our Standby Webmaster! Welcome aboard!

Jack will give you a call and commence a dialogue about the website which I'm sure will become a continuing and delightful relationship.

I'll also announce your position to the class!

All the best,
---
From: Pat Kittler [mailto:pkittler@scicable.com]
Sent: Friday, July 26, 2013 9:49 AM
To: Robert Monroe
Subject: Re: Standby Web master
Bob; Thanks for the response. I'm not anxious for another responsibility but thought that I should answer up and be willing to step in if needed. The older I get, the more I value my Naval Academy education and the quality of my schoolmates. We have a very active alumni organization in the Twin Cities ( Mpls & St Paul ), led by a devoted member of trhe class of '75; Alex Plechash. But I live well "up-state" and have discovered a trove of USNA , "other academy" and like minded ROTC alum through my work on putting together the "College Bound" program for Rep. Rick Nolan. The computer has to be one of the greatest inventions of the 20th century. Best regards,
---
65th Reunion Response Form
---
Posted 5/06/13: (A Shipmate Reminder About Our 65th Reunion, by Bob Monroe)

---
Posted 4/03/13: (Class Officers and Managers (as it appeared in Shipmate), by Bob Monroe)
---
Posted 1/18/13: (Class Leadership Thoughts (to appear in Shipmate), from Bob Monroe)
President's Corner.

My thought this month is to let classmates, wives, and widows know a bit more about your class officers and managers, who commit so much of their lives to holding the USNA Class of 1950 together as a functioning unit. Your VP, Tom Ross (Annapolis, MD), solves the "ambiguous" problems that seem to crop up weekly outside of defined areas of responsibility, manages most of our USNA and Alumni Association & Foundation issues, and heads the Annapolis contingent of classmates. Deke Forbes (Dumfries, VA), our Executive Secretary, is the nerve center of the class, keeping in daily touch with those who have problems, tracking contact information on everyone, and publishing our key document, the Register. Treasurer JJ McNally (Alexandria, VA), is our financial wizard, keeping our class treasury safe and managing all our financial transactions.

The heart of class management, however, is communications, and we have three managers who reach out across the nation and the world to hold us together. Chuck Mull (Brunswick, ME) is our Corresponding Secretary, and he writes the finest Class Column in Shipmate. Ray Engle (Medford, OR) has created and manages our E-Mail Directory which now links a large percentage of the class through instantaneous messaging. Jack Akin (New London, NH) is the founder and manager of our remarkable class website, which keeps us up-to-date through daily postings of interest and provides a remarkable historical record.

Many other classmates support these six dedicated individuals in essential specialized functions; for example: Your Class Leadership Group of 13 provides invaluable advice on difficult issues. Milt Schultz (Falls Church, VA) serves as Chairman of both the Board of Trustees for the USNA Museum Endowment (our class legacy), and our Nominating Committee. Treasurer JJ McNally also heads the class Distinguished Graduate nomination effort. Daryle Tripp (Alexandria, VA) does a superb job as our Class Statistician. Dick Powell is both our Museum expert and our fundraiser-in-standby.

Some of these standout individuals are devoting virtually full-time to their class efforts on your behalf; with others it may be half-time or quarter-time – hundreds of hours per year…and all of it pro-bono. We owe them an immense debt of gratitude!

All the best,

Bob Monroe
---
Posted 1/18/13: (Letters to Class Leadership Group, from Bob Monroe)
1st Letter
Class Leadership Group,
This note is for information. No action needed.
For the past year I've been sending our Class Scribe a "President's Corner" item, for insertion in his forthcoming Class of 1950 column for Shipmate.
Chuck Mull is just about to submit his column for the March-April issue, and I thought you might like to see the input I've given him for President's Corner (attached at icon above). It's an attempt to give you class leaders a small measure of credit for the marvelous job you do – at great cost to self and family – in holding classmates, wives, and widows together as a functioning unit.
There's no way I can ever thank each of you adequately for all you do, but I do want to be sure our classmates know how effective and generous – and totally remarkable – you are.
All the best,
Bob Monroe
703-242-8756
2nd Letter
Class Leadership Group,
I believe it would be wise for us to be a bit more forehanded than we have been in preparing for the inevitable transitions in class officers and managers. In saying this I'm not focusing on our current situation; I have in mind a continuing process, year-after-year.
I'd welcome your thoughts on the following
BACKGROUND. During my almost four years as class president we've all gotten about four years older, and we're currently losing about 6½ % of our classmates each year. Three of our key officers and managers have been lost without warning. Jerry Coleman had to leave as E-mail Manager overnight for health reasons, and he was unable to assist in any transition. Larry Hawkins, our long-time Executive Secretary, seemed to be recovering from an illness when he passed away. The same was true of Wayne Jensen as Corresponding Secretary. In each case we had no backup, and virtually no "transition" was possible. Only through the most heroic efforts were Ray Engle, Deke Forbes, and Chuck Mull able to reconstruct an effective follow-on effort in each case.
I believe we can and should do better, and that we owe it to our classmates to make the attempt. Although it may be difficult, I think we should have a named, agreed replacement for each key officer and manager. In some cases this individual might be willing to take over the full responsibilities of the position as the next incumbent. In others, the replacement might only be willing to pick up maintenance of the data base and function until a permanent successor could be named. But in every case the key objective would be to have a backup who was completely familiar with the officer's or manager's class procedures and processes, his class files, his class computer(s), his class passwords, his class data bases, etc.
In some cases it might be convenient for the designated replacement to be located in the Washington or Annapolis areas, or in the same region as the current incumbent; while in other cases the replacement could live anywhere
Here's an example. Jack Akin and I exchange phone calls every month or so, and when we talked last, about a week ago, I congratulated him on our superb class website (which he has developed and operated, single-handedly), and asked him if he felt okay about continuing to manage it. He said absolutely! I then asked what he thought about our naming a backup for him, and he thought it was a good idea. He had three valuable bits of advice: (1) He wanted class leadership to select the backup, rather than his doing it. (2) He stated that the backup would have to be computer- and internet-competent. (3) He said that if such an individual were named, he could visit him in Hew Hampshire for about a half-day and he could show him everything he would need to know about the website, its processes, his procedures, the firm which supports him, etc.
It may be that for some of our officer-manager positions we should try to select the replacements, while for others we might wish to go out by e-mail to all classmates, seeking volunteers.
I'd appreciate it if you could consider the above and let me have your thoughts or advice.
Bob Monroe
703-242-8756
---
---
Posted 12/07/12: (Serving Surviving Spouses, from Bob Monroe's Shipmate Article)

---
---
Posted 10/08/12: (Chuck Mull is New Shipmate Corresponding Secretary, from Bob Monroe)
Editor's Note: Welcome back, Chuck, to the exciting Class of 1950 communications world which we serve.

---
Posted 7/22/12: (Death Notice Procedure, from Bob Monroe)
Classmates, and Timothy Woodbury,
We've recently experienced a couple of mix-ups in our class communications regarding deaths of classmates, and this message is an attempt to avoid this in the future by establishing more clearly how the system works.
First, problems occur NOT from any individual's error, but because the reporting and follow-up on each death tend to be absolutely unique, and several major players (the deceased's family, close friends, etc.) may or may not play a role. As a result, each of us has to be alert and adjust our role in each case to be sure we – collectively – meet our team's responsibilities to the Class of 1950.
Second, we have a seven-person team involved:
Timothy Woodbury, at the Alumni Association, frequently is the first to hear of a death, and she notifies the other six of us. When she isn't the first to hear, whoever hears of the death must get word to her as well as the rest of us. Timothy also works with the family to publish Shipmate's "Last Call" obituary (generally different from the family-prepared obituary in the local newspaper).
Deke Forbes, our Class Executive Secretary, generally has the lead on tying things together and being sure nothing slips through the cracks. He also generally is our principal in communicating with the deceased's family.
Ray Engle, our Class E-mail Manager, is the key player in getting the word out to the Class as a whole. Since each case is unique, Ray exercises a great deal of judgment in when and how he does this, without delay on the one hand or unnecessary duplication/correction on the other. An important point here for all of us to keep in mind is the time-lag between the death notice and the obituary – it may be a few hours, many months, or forever, because the obituary (as I understand it) is controlled by the family.
Jack Akin, our Class Website Manager, runs our primary back-up system to Ray, by immediately posting the death notice on the website, and subsequently replacing it with the obituary, when available.
Chuck Mull, our Class Corresponding Secretary, runs our secondary back-up system to Ray, by including a brief (two-or-three-sentence) death notice in our Class of 1950 column in Shipmate. Keep in mind that there will always be several months' delay between date-of-death and arrival of the issue with Chuck's report of the death.
Daryle Tripp, our Class Statistician, prepares the Class of 1950's death statistics twice annually (January 1 and July 1) and sends them to Jack (for complete posting on the website) and to Chuck (for summarization in Shipmate).
I try to follow everything and be a final back-up, if needed. If the deceased's wife is living, and if appropriate, I send her an immediate letter on behalf of the Class, expressing condolences and offering Class assistance.
Third, a few points to keep in mind:
* Good Class performance after each death depends on: (1) Each of us communicating with the others, keeping them informed, etc. (2) Each of us taking the initiative to plug any hole or correct any incipient problem we recognize.
* Getting an immediate e-mailed death notice to the Class is a matter of prime importance. We shouldn't wait for an obituary. There's no particular format for a death notice, since the amount of information that's known will vary widely in each case. Each of us should write it if it seems appropriate for us to do so. Whoever learns of a death, please write a brief death notice (a sentence or two), providing all information that's known, and send it to Ray (and the rest of us) immediately. Ray will send it out, adjusting the wording if he has more information. But be SURE it's a valid report! Ray will have no ability to verify it.
* Each of you will need to keep records of communications for a reasonable period of time; say until the Shipmate obit appears in Last Call or the interment/inurnment takes place, whichever is later. The reason is that Classmates may need to come to us (our 7-person team) for information for quite a few months after a death, and we want to be able to respond.
* I believe we should try to follow roughly the same procedures outlined above in the case of deaths of wives of classmates, although our being notified is much more chancy, information is much more scarce, Timothy is much less involved, and Last Call is not involved. But we should do what we can in each instance.
To all: If I've made errors in the above, please don't hesitate to correct me. If we should do things differently, please suggest them. This is the first time we've covered this as a Class; but deaths of classmates are obviously becoming more frequent events and our responsibilities have increased.
All the best,
Bob Monroe
703-242-8756
---
---
Posted 7/15/12: (Class Leader Announcement, from Bob Monroe)
Class Leadership Group,
On becoming class president about 3 ½ years ago, I found it useful to ask the advice of experienced class leaders when making the frequent decisions required. After a few informal tries, I asked a group of seven (the four serving class officers and three long-term class presidents) if they would serve as a "Class Leadership Group" to provide advice. This worked well; and a year or so later, I broadened the base by inviting two from Annapolis to join, making it a group of nine. The loss/departure of two class officers was effectively offset by their replacements; and from my viewpoint this group has been an outstanding success, resulting in sound decisions. More than 90% of our business is done by e-mail; we've had only four short meetings.
It was recently suggested that I expand the group further; and I think this is a good idea, in that it makes the group more representative of the class as a whole. Accordingly I'm pleased to announce that John Nolan, Daryle Tripp, Marsh Treado, and John Henderson have agreed to join us, expanding the group to thirteen.
I want to thank our past members for being of such great assistance, and to welcome our new associates. I anticipate the more broadly based group will be even more effective in the future.
All the best,
Bob Monroe
703-242-8756
---
Posted 6/26/12: (Mentor Program Announcement - from Bob Monroe)
June 25, 2012
Classmates,
Attached below is an Alumni Association announcement of a new program for assisting USNA alumni.
Over the past couple of years, the Class of 1969 has developed a "mentoring" program which would enable USNA graduates to receive advice and help on specific issues from other alumni. The program is about to start on a one-year trial basis, and the Class of 1969 is wishes to sign-up mentors. Please giive it your consideration.
Please direct any questions to the Class of 1969, as outlined below.
All the best,
Bob Monroe
President, USNA Class of 1950
---
From: Noreen Frenaye [mailto:noreen.Frenaye@usna.com]
Sent: Wednesday, June 20, 2012 7:56 AM
To: Undisclosed recipients:
Subject: Mentors Needed
This email is being sent to all Class Presidents on behalf of the Class of 1969.
Attached, please find information regarding the mentorship program the Class of 1969 is sponsoring as presented to you at the Council of Class Presidents meeting.
Questions or Comments (regarding this program): Please email Class of 1969 Secretary, Dr. Steve Hudock, at shudock@1969.USNA.com or AMP Director of Communications retired RADM Stan Bryant at stanleywbryant@hotmail.com.
V/r,
Noreen Frenaye
Asst Director, Alumni Special Programs
U.S. Naval Academy Alumni Association & Foundation
Office: 410-295-4016
USNA ALUMNI MENTOR PROGRAM PILOT INVITES MENTORS TO SIGN UP NOW
WE NEED USNA ALUMNI VOLUNTEERS GO TO WWW.USNA.COM and, in the "Support the Academy" tab, locate "Get involved" in the dropdown and choose "Become a mentor." Then follow the prompts to enroll.
Attention Please: The Naval Academy Alumni Association and the Class of 1969 are pleased to announce the launch of the Alumni Mentor Program (AMP) Pilot Project as approved by the USNAAA Board of Trustees at its 8 December 2011 meeting. While it preliminarily will be the 50th Legacy Gift of the Class of 1969, AMP will eventually be an Alumni Association offering by all Alumni for all Alumni. AMP protégé and mentor participants will be from all classes.
AMP Pilot:The AMP Pilot will run for a minimum of one year targeting 600 protégé and 400 mentor participants. Upon successful completion of the AMP Pilot, we expect to implement full AMP for a combined 3,000 mentors and protégés in 2014.
How You Can Help:Volunteer by enrolling today for training as a mentor to share your experience, wisdom, and network to help other Alumni. Lead by helping to inform both your Classmates and other Alumni you know to support the AMP Pilot.
Say Again Your Last:We need 400 mentors ASAP to conduct a meaningful AMP Pilot! All a USNA Alumni has to do is go to the AMP website through www.usna.com and sign up for mentor training. Once we have 200 trained mentors, we will then call for 600 protégé volunteers.
WE NEED MENTOR VOLUNTEERS NOW!!
By The Numbers:Total USNA Alumni number about 50,000 of which about 10,000 are on active duty. AMP will provide the means for Alumni to help Alumni in an unprecedented way.
Questions or Comments: Please email Class of 1969 Secretary, Dr. Steve Hudock, at
shudock@1969.USNA.com or AMP Director of Communications retired RADM Stan Bryant at stanleywbryant@hotmail.com. NON SIBI Class of 1969
---
Posted 5/21/12: (Thoughts on the Class Website, from Bob Monroe)
1950 Shipmate Column for July-August
President's Corner. My topic for this issue is our Class Website (usna50.8k.com). Jack Akin, our Webmaster, has made it into a valuable and interesting source of breaking class news, a remarkable repository of class data and class history, a library of hilariously funny jokes and stories, and more. Yet I continue to run into classmates who say, often apologetically, that they've never visited it, or weren't even aware we had a website. I bring it up because class communications is the glue that holds us together, and our website is – along with Shipmate, the Register, and the new E-mail Directory – our four principal means of class communications. In fact, the website is really the best of the four, because it's months faster than Shipmate in bringing you important news about classmates or class events, and the Register and Directory are not suited for reaching large numbers of classmates. But if few of us actually use the website, it can't live up to its potential. Almost all of us have access to the website, even if we're not on e-mail. Just go to any computer, call up Google, type in "usna50.8k," and bingo, you're there. And you don't even have to remember our web address; it's in the header of our class column in each issue of Shipmate. Try it. And send Jack interesting class information for posting. All the best, Bob Monroe.
Posted 5/21/12: (Important Benefits Notice from Bob Monroe)
May 2012
Message for all Classmates and Wives of Deceased Classmates
Subject: Possible Forthcoming Reductions in Military Retired Pay and Healthcare Benefits
As you know, America is facing a grave debt crisis. For over half a century the nation has been living beyond its means, and recently our annual deficits have been immense. Our country is facing economic collapse, and drastic cutbacks in government spending are finally being proposed. Because these are long overdue, the cuts are going to be broad-reaching and huge, reaching trillion-dollar levels. They'll start immediately; and new cutbacks will continue, year after year, probably for most of our lives.
Already proposals abound to cut military retired pay and health benefits, many of which are quite draconian. Some of these have "grandfather clauses" which provide a measure of protection to individuals who are already retired, but we will still take a hit.
As patriots, all of us are quite willing to do our share; but many of the current proposals would make military benefit cuts far beyond that. In fact the most publicized plans specifically are designed "to cut military benefits back to level of typical civilian plans," without any regard for the enormous demands and sacrifices of military life which have no counterpart in civilian employment. These proposals must be opposed.
Some classmates have suggested that we (our class) organize as a group to fight ill-advised cuts to military retired pay and health benefits. However, your class leadership (which, from long experience within the beltway, is quite knowledgeable of Washington ways) believes there is a much better approach. We can, as individuals, join a much larger and vastly more powerful organization of like-minded people, the Military Officers Association of America. MOAA is already fully engaged in this battle. They track all potential opponents of military benefits; they know which are the principal threats; they are familiar with our allies in Congress and elsewhere; they are experienced in mobilizing the grass-roots support our allies need to defeat unbalanced reduction proposals; and they have developed computer-based capabilities to enable supporters (like us) to send effective letters to our legislators in minutes.
If your interest in this issue is minimal, you need take no action. You can be assured MOAA is at work protecting your classmates who have more at stake.
But if you would like to participate in the fight personally, your class leadership suggests you consider joining MOAA and taking the actions they recommend in their monthly "Military Affairs" magazine and their more frequent e-mails. Membership fees are low ($34/year, $17 for new members, when last checked). MOAA can be reached at 703-549-2311, or www.moaa.org.
All the best,
Bob Monroe
703-242-8756
---
Posted 5/01/11: (Class Museum Endowment, By Bob Monroe)
Classmates,
For the past eight months your Class Leadership has been updating the structure, terms, and management of the Class of 1950's Endowment to the USNA Museum (Preble Hall). Here's a summary of what's been done. I'll start with a brief "background" paragraph, to summarize this remarkable contribution the Class of 1950 has made to the Naval Academy over the past 17 years, and the classmates whose leadership and generosity have made it happen.
BACKGROUND OF OUR MUSEUM ENDOWMENT. At our 45th Reunion in San Diego (1995), Class President Milt Schultz initiated a class-wide dialogue which culminated in our selection of the Naval Academy Museum to be the beneficiary of the class's 50th reunion gift to USNA. At that point, former Class President Dick Powell became our standard-bearer as Class Fundraiser; and for the next 17 years Dick has devoted almost full-time to nourishing, sustaining, and championing class efforts to advance and support the Museum in all possible ways. Our 50th reunion gift ($505,050) made possible a major Museum upgrade. Recognizing long-term future museum needs, Class President Roy Snyder and Dick were already creating a Class of 1950 Endowment to provide, in perpetuity, financial support to the Museum. The Endowment Agreement was signed in 2000 by Roy and George Watt (for the Naval Academy Foundation). In the meantime, when an even more significant Museum improvement program ran short of funding, Dick created a "Syndicate" of eleven classes to enable completion of the upgrade in 2009. Back on 1950's Endowment, through Dick's non-stop fundraising, and the great generosity of several classmates able to make large contributions, real progress was made toward our initial one-million-dollar target. Roy's success in encouraging many classmates to join USNA's "President's Circle" of annual contributors helped significantly. Finally, Roy and Don Albright each were able to arrange for unexpected, large outside bequests. As a result, our Endowment's current value is almost $3 million. Endowment laws and regulations, which emphasize prudent management, permit USNA and the Foundation to withdraw (under current conditions) about $100,000 annually to meet Museum needs. The Foundation has made it a practice of letting the Class of 1950 exercise broad oversight over these disbursements.
OUR ENDOWMENT AGREEMENT. After a decade of experience with our original Endowment Agreement, the Class of 1950 and the Foundation have recently "restated" it to update three sections. We have added (for posterity) the reasons which led us to create the Endowment; we have tightened the purpose for which Endowment funds can be expended; and we have deleted two pages dealing with Trustees, as this is a class (not a Foundation) matter. The new Endowment Agreement, signed last month, is shown immediately following this summary.
OVERSIGHT OF OUR ENDOWMENT. Endowments, foundations, and charitable organizations find it sound business practice to create Boards of Trustees to exercise oversight of funds of this size. Such a Board – typically composed of mature, responsible individuals of different backgrounds who hold differing philosophies – protects management from hasty, ill-advised, or questionable actions.
CHARTER OF BOARD OF TRUSTEES. The Charter of our Board of Trustees, signed earlier this month, is shown right after the Endowment Agreement.
MEMBERSHIP OF BOARD OF TRUSTEES. Class Leadership has appointed the following classmates to our Board of Trustees for Museum Endowment:
Milt Schultz (Chairman)
JJ McNally
Dick Powell
Bob Shultz
Roy Snyder
On behalf of Class Leadership, I wish to express our thanks – and that of all our classmates – to these eminently qualified gentlemen for agreeing to serve the Class in these important positions.
The Class of 1950 can take pride in having created a continuing, substantial benefit to the Museum and the Naval Academy. Dick Powell has included numerous examples of our Class's specific efforts on behalf of the Museum at his caption on the homepage.
All the best,
Bob Monroe
---
Class of 1950 Endowment Agreement
---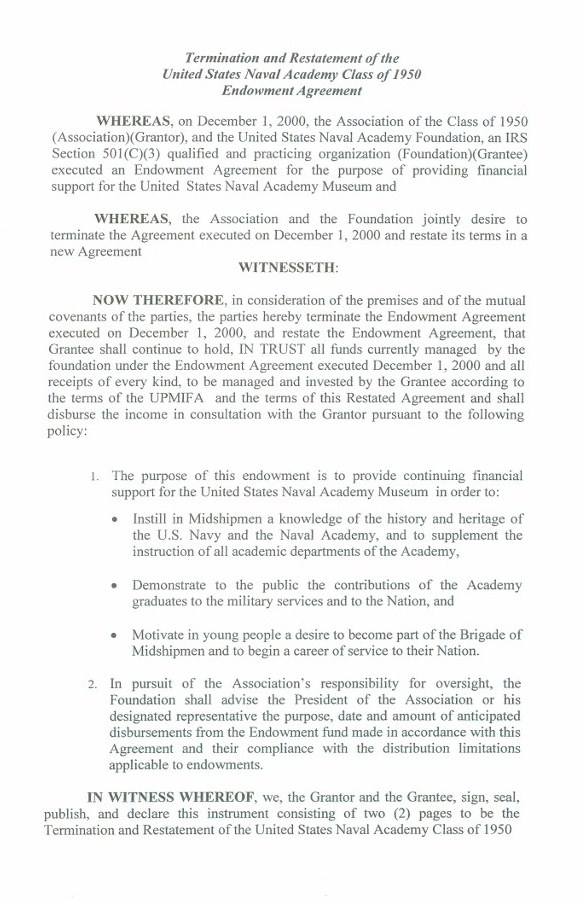 ---
CHARTER OF BOARD OF TRUSTEES
FOR
USNA CLASS OF 1950'S ENDOWMENT FUND FOR NAVAL ACADEMY MUSEUM
April 14, 2011
PURPOSE. This document is the Charter of the Board of Trustees for the USNA Class of 1950's Endowment Fund supporting the Naval Academy Museum.
REPLACEMENT. This document supersedes and replaces: (1) The Trustee provisions of the now-terminated Endowment Agreement of December 1, 2000; and (2) the "Executive Committee of the Museum Endowment Trustees" E-mail of September 13, 2005.
MISSION. The mission of the Board of Trustees is to assist Class Leadership in carrying out the oversight responsibilities of the Class of 1950 for its Endowment to the U.S. Naval Academy and Naval Academy Foundation for support of the Naval Academy Museum.
RESPONSIBILITIES. The responsibilities of the Board of Trustees, and of the individual Trustees, are:
* To familiarize themselves, individually and collectively – through Museum visits and discussions with Museum officials and staff – with all aspects of the Naval Academy Museum, its status, stature, programs, problems, needs, etc.
* Upon receipt of the Foundation's notification of anticipated Endowment disbursements, to advise Class Leadership promptly of the Board's oversight recommendations.
SIZE OF THE BOARD. The Board will consist of between four and six Trustees, one of whom is designated Chairman of the Board.
APPOINTMENT OF TRUSTEES. To form the Board initially, Class Leadership will appoint the Trustees and designate one as Chairman. Thereafter, Class Leadership will appoint new Trustees (and Chairman) as needed.
QUALIFICATIONS OF TRUSTEES. Trustees will be members of the Class of 1950, physically and mentally capable of functioning, who express an interest in serving. As a practical matter (in view of the "Responsibilities," "Remuneration," and "Meetings" paragraphs of this Charter), Trustee service will generally be limited to individuals residing in or near the Washington-Annapolis area, although this is not a requirement.
TERM-OF-SERVICE OF TRUSTEES. There is no set term-of-service as a Trustee. If the appointment process brings the total number of Trustees to more than six, the Trustee with longest service will retire from the Board.
REMUNERATION OF TRUSTEES. Trustees will receive no fees for service. Reimbursement (or partial reimbursement) for personal expenses incurred will be considered only in exceptional circumstances.
MEETINGS OF THE BOARD. The Board of Trustees will meet at least once a year. To facilitate Museum visits, briefings, and discussions with Museum staff, meetings will be held in the Museum or nearby.
REPORTS OF THE BOARD. Annually, at the end of the Foundation's fiscal year (June 30), the Board will submit a "State of the Endowment" report to Class Leadership, summarizing financial status, disbursements, top-priority future projects, Museum status, and other appropriate information.
(signed)
Robert R. Monroe
VADM, USN (Ret.)
President, USNA Class of 1950
---
---