SIXTIETH REUNION 2010
APRIL 22 - 25, 2010
---
"The Way We Were"
| | | |
| --- | --- | --- |
| | | |
| Class of 1950 Graduation | The Yard in 1950 | Navy, Air Force, Marine Corps |
---
Posted 8/10/10: (Reunion Photos from Milt Schultz)

These photos were taken by Ms. Eileen Proulx of the USNAAA&F Staff. I received them yesterday from Milt Schultz for publication on the website. Please send me names of those classmates and spouses whom you recognize, and the album will become more useful to us. To see them, select the word "Photos" in the above title.
Reunion Photos from Jackie Deranian)
If you would like to view Jackie Deranian's photos, go to the following address, then select"USNA 60th Reunion", www.gallery.me.com/jacquelynderanian#gallery.
---
Posted 5/12/10: (More Photos from Daryle Tripp)
Jack--

In accordance with your wishes. I am sending some additional reunion 'finalist' photos.
In the event that all of them will not fit in the body of this email, I will send a short 3rd version'

Chapel altar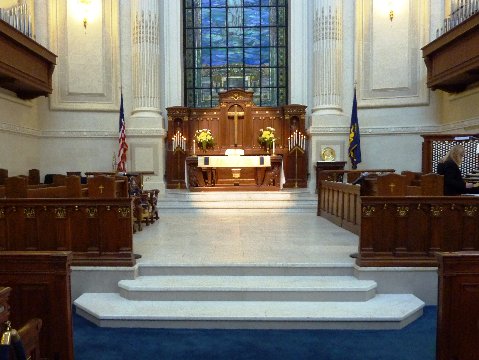 Chapel-after the service Class of '50 attendees


Lunch Dahlgren Hall 23 April


Museum-BB Missouri with mess table where Adm. Nimitz signed the surrender for the U.S.


Museum-new model of Japanese battleship Yamato



Parade march-on of the Drum and Bugle Corps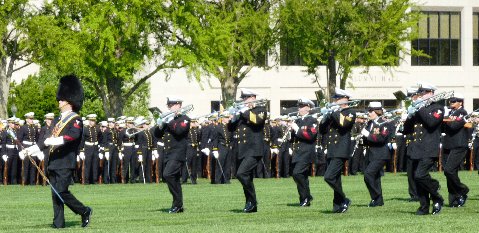 Parade-Midn. Commander presenting the Brigade to Superintendent Adm. Fowler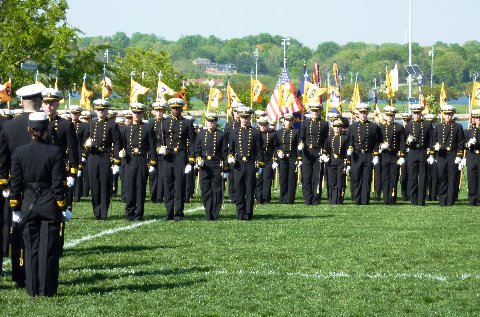 YP #2 and #3 about to depart the seawall for the harbor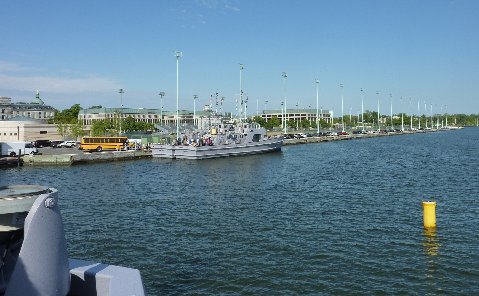 YP with Classmates about to debark after the cruise

YP against the backdrop of the Chesapeake Bay bridge. At this distance the bridge appears as a single span that is in fact double. This was a rare opportunity thanks to the gods of weather for classmates to view an engineering masterpiece in totality as anchored on both ends.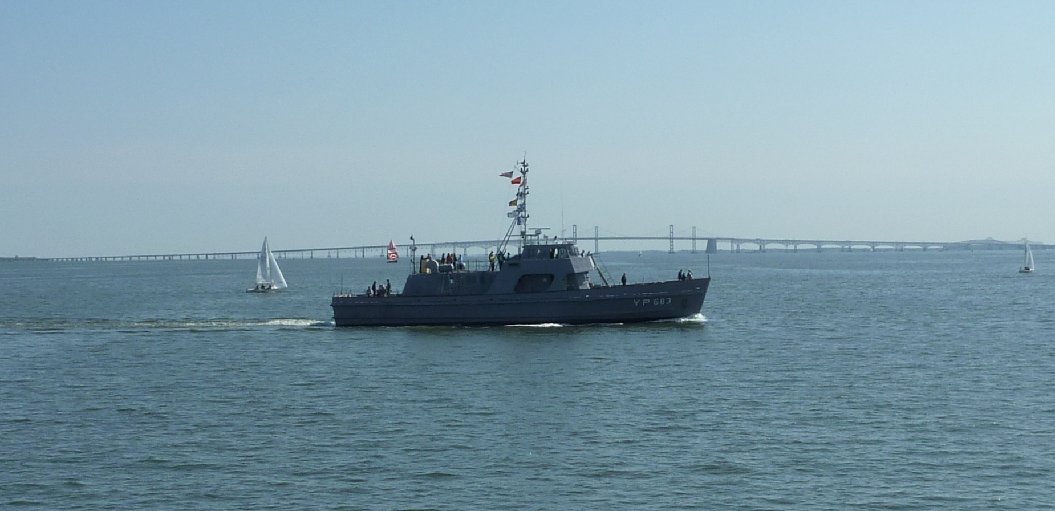 ---
Posted 5/06/10: (Reunion Photos from Daryle Tripp)
Jack--

Have sent this to several and you are free to use as your capability and interests dictate.

Daryle



From: DaryleT@aol.com
To: fox@edifax.com
CC: darylet@aol.com
Sent: 5/5/2010 4:15:00 P.M. Eastern Daylight Time
Subj: Thanks for your Reunion Photos. Here is my Reward


May 5, 2010

Dick & Shirley (Fox),

I will attempt to return the favor with a few that will fit in the body of an email.

Here they are:


Superintendent Adm. Fowler, Under SECNAV & Class President Bob Monroe & Mrs. Fowler




Superintendent Adm Fowler, Under SECNAV & Class President Bob Monroe


Color guard


My best photo of the parade: Officers Center with the Brigade Dep. Commander (a 5 striper) leading.


4th Company at the N* dinner


Chuck Greenwood with his "speaking hands" at the memorial service.


Enjoy,

Daryle
Reply Reply to all Forward
Posted 4/29/10: (Letter from Bob Monroe)
---
Our 60th -- Congratulations and Thanks

Reply |Robert Monroe to Bigley, Bowers, Buteau, Carter, Jerry, Eyster, Forbes, Greenwood, Hawkins, Henderson, Hooper, Kiehl, Kivlen, Lasley, Lee, McLean, McNally, Mulford, Noble, Nolan, Oberholtzer, Oliver, Portnoy, Powell, Rockey, Rogers
show details 6:23 PM (3 hours ago)

Washington-Annapolis Classmates,

Our 60th Reunion, attended by about 300 classmates, widows, and guests, is
now history. While we haven't yet taken a polling sample of attendees to
see "how well we did," I want to express my personal congratulations and
thanks to the many of you who voluntarily devoted countless hours, days,
weeks, months, and more to making this event the best possible gathering for
your classmates!

In my judgment there were no "unsats" among our events and functions, and
very few which were ranked only "satisfactory." I believe most scored at
the "good" or "excellent" level, and several were clearly "outstanding."

Any attempt to thank classmates as individuals is bound to be incomplete,
because contributors were so numerous that some number will be omitted
simply through my own limitations. However, so many of you did so much that
I must try. Please accept my apologies in advance for my lack of total
awareness.

* As Reunion Chairman, Tom Rogers got us off to a great start before
health issues intervened. Daryle Tripp instantly picked up the ball and ran
with it superbly for some three years before family heath concerns required
him to pass the baton. Jim Oberholtzer took over (assisted by Jean Shirk)
and managed nine months of detailed planning and execution spectacularly --
cheerfully accepting it as a more-than-full-time job. As a bonus for us,
Jim also personally managed the Saturday morning walking tour and the
Saturday evening final cocktails and dinner-dance.

* As Class President through the crucial early years, Tom Bigley
made the top-level decisions that shaped the reunion and guided us through
the all-important hotel negotiations, signing the contract in 2007.

* As Reunion Comptroller, John Henderson repeated his role at our
50th, managing the registration of every classmate, widow, and guest,
calculating and collecting all reunion fees, paying all the many bills, and
keeping all financial (and many other) records meticulously. This, also,
has been a full-time job for the past year -- and it will still continue for
a while. By his determination to keep reunion fees as low as possible, John
also undoubtedly brought us many more attendees.

* In January, when it appeared the class might be in serious
financial difficulty regarding our Sheraton hotel contract, Deke Forbes
volunteered to chair a Communications Task Force to telephone every possible
attendee each month, January through April, and ascertain many particular
details of their reunion intentions. His clear assessments of the changing
weekly situation and his dynamic direction of his TF callers (volunteers
Bill Diehl, Bill Simons, Tom Rogers, Ross Mulford, Law Kivlen, Bob Shultz,
and Bob Satre) resolved the contract difficulties and probably also
increased our attendance significantly.

* In February, when it became apparent that we needed an Excel
database expert to manage many complexities of the reunion, Daryle Tripp
volunteered for what subsequently became another full-time job. His work
interfaced with that of Deke and our hotel point-of-contact to provide clear
information for management decision-making.

* As Transportation Manager, Ed McLean is another repeater from our
50th. Bus transportation is a make-or-break function for any reunion, and
ours was particularly demanding given the separation of hotel, Yard,
stadium, and town; the pace of activities; some unexpected changes; and the
ambulatory limitations of some classmates. It's a thankless job, and Ed
made it look easy.

* Our Memorial Service was absolutely beautiful. The team from our
50th -- Ed Grunwald as Planner and Manager and Chuck Greenwood as Chaplain
-- delivered one of those "outstandings" I mentioned. All attendees thank
you two for a moving experience.

* Tom Ross's expert knowledge of USNA solved many management
problems, and he personally managed the Reunion Registration Team (Kippy
Ross, Tom and Ellen Rogers, BB and Josephine Brown) in the Sheraton lobby on
April 22-23. Tom also searched out Dahlgren Hall for Friday lunch (when all
other options had failed), and managed the planning and contracting into
March. This marked Tom's 3rd Reunion Registration job for Class Reunions.

* Phil Ryan batted cleanup for the Annapolis team, volunteering for
every difficult job: Navy athletic events, managing the Hospitality Suite,
managing Saturday's Sheraton lunch, etc.

* Milt Schultz managed the arrival cocktail reception Thursday
evening at the Sheraton. He also personally located and displayed the
fascinating memorabilia of our Academy and Navy years which covered the
walls. This was the kickoff event for our reunion, and Milt's efforts had
much to do with the fact that our original estimate of attendees (about 100)
turned out to be slightly off. About 280 attended!

* Dick Powell arranged our all-hands visit to the Naval Academy
Museum (Preble Hall) on Saturday morning, ensuring that experienced museum
docents were available as group and display guides. He also arranged for
our ceremonial presentation of awards to three
Museum and Alumni Foundation principals who worked closely with us during
the Class's 15-year contribution effort to museum improvement.

* Bernie Buteau managed our delightful Friday evening cocktail party
in the Lacrosse Lounge and dinner in the N-Star Room (Navy-Marine Corps
Memorial Stadium).

* Byron Lee managed all aspects of Sunday's wonderful Luncheon
Cruise on the Severn, aboard "Lady Sarah." Char and I spontaneously awarded
this event our personal grade of "outstanding."

* Bob Shultz handled the always-difficult-to-manage YP cruise on
Saturday morning, and all reports reaching me have been quite positive. I
believe 80-100 classmates were divided among three YPs, and conditions were
ideal.

* Jerry Coleman took over management Friday's Dahlgren lunch (from
Tom Ross) in March and produced a real winner.

* Finally, the entire Class owes a huge debt to Larry Hawkins, our
Executive Secretary. His "life's work" for recent years has been producing,
every five years, the best "Class Register" of any class -- ever! .He's
outdone himself this time! Our 60th Reunion Class Register is the best ever,
with hundreds of updates in names, mailing addresses, telephone numbers,
e-mail addresses, etc. Reunion attendees should have received a single copy
each, gratis. Extra copies are available to all hands for a low price. No
classmate should be without one (or more). Thank you, Larry! As a bonus,
Larry provided the name placecards for both dinners.

God certainly smiled on the Class of 1950, blessing us with near-perfect
weather throughout!

All the best,

Bob Monroe
rrmonroe@cox.net
703-242-8756


Copy by mail to Bill Diehl, Don Fraasa, Lew Goldbeck, EdGrunwald, Bill
Smoot, Frank Sterner, and Don Stull.

For Jack Akin: Would you please post a copy of this e-mail in the "Reunion"
section of the Class's website? Many thanks.
---
Posted 4/21/10: (Class Reunion Stats, from Daryle Tripp)
April 21, 2010
Subject: Final Reunion Database Update
To all:
I am sending this a day early knowing that many of you will be traveling tomorrow. The assumption (unlikely) is that there will be no more last minute cancelations or other changes in the next 24 hours before registration begins. (The cancelation of C. R. Bardes just announced has been incorporated.)
The latest cancelations remain in the "Those Attending" section in order to insure that the changes have been incorporated. The cancelations have also been incorporated in the "Those Not Attending" section. Numbers such as <x> reflect the cancelations and do not reflect a double accounting. The Sheraton data is based on the April 1, 2010 RSV sheets provided by Jessica and has not been updated to us.
For those of you as copy addressees, opening the attached file is your option since the numbers of interest to management are in the body of this email as follows:
Number registered 159
Attendees 301
Number of ladies (widows +) 14
Singles (widows and widowers) 34
Living at home 13
Sheraton attendance 240
Sheraton hotel room nights 424
Our contract before we pay for unused rooms 340
Those not attending or not responding 306
Widows declining or not responding 111 (Included in line above)
Grand total named individuals 465 (Attendees,declined,no answer)
A separate spreadsheet lists the service affiliation of those attending. The numbers are:
Navy 113 (25% of 461 graduates)
Marine Corps 13 (27% of 48 graduates)
Air Force 24 (14% of 172 graduates
Others 3
A printout of a few of these spreadsheet files will be at the hotel registration desk for reference and the key reunion team members will also have copies. A standard Excel XLS file and a PDF version are both attached.
This is being sent for information to Jack Akin, Wayne Jensen and Ray Engle and is not intended for publication.
Daryle@aol.com
---
---
---